HTC VIVE Wireless Adapter untethers you from your PC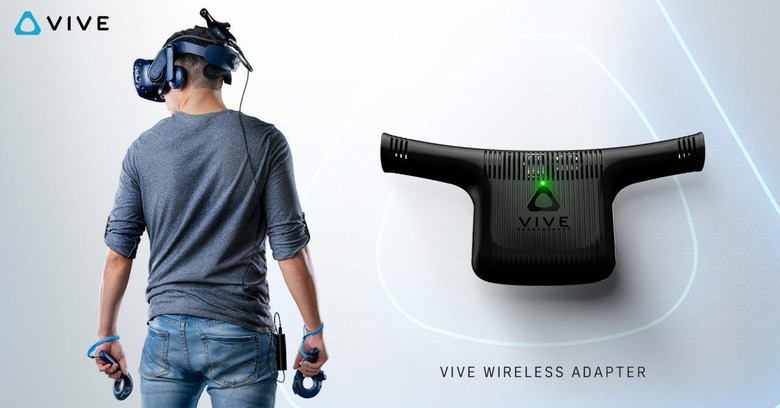 One advantage of low and mid-range virtual reality headsets like the Gear VR or the Oculus Go is they're wireless, relying on phones or onboard hardware for their power. High-end headset like the HTC VIVE and Oculus Rift require that you connect them to a reasonably powerful gaming PC in order for them to work. HTC is looking to change that today, introducing the VIVE Wireless Adapter at Gamescom.
The VIVE Wireless Adapter does what it says on the tin: it attaches to your headset and allows you to wirelessly connect to your PC. The adapter is compatible with both the VIVE and the VIVE Pro, but in the case of the latter, you'll need to buy an extra compatibility pack that includes a special cable, a different attachment mechanism, and extra foam padding.
HTC says that setting up the Wireless Adapter is a fairly easy process, as it only requires that you install a PCI-e card and connect a sensor to your PC. That sensor will facilitate the exchange of data between your PC and headset, and it has a range of 6 meters. The adapter uses DisplayLink's XR codec and Intel WiGig, which HTC says provide "low latency and high performance with hours of battery life."
How long, exactly, the adapter's battery will last is unknown, but since it's built around an HTC QC 3.0 PowerBank, you can use the adapter as a portable battery for your phone in a pinch. The adapter ships with one PowerBank when you buy it, but HTC says that separate PowerBanks will be available for purchase as well.
Here's the big kicker, though: the VIVE Wireless Adapter costs a not-insignificant $299, and that VIVE Pro compatibility pack costs an extra $60. For as cool as the wireless adapter sounds, it's not hard to imagine many people deciding to simply deal with cables when they see what it costs to go wireless. With that said, the Wireless Adapter might be a good item to pick up at a discount, or for someone who wants wireless VR without concern for price.
If you fall into that camp, you'll be able to pre-order the VIVE Wireless Adapter beginning on September 5. There's no word on an actual release date just yet, but it's worth pointing out that anyone who purchases a VIVE Wireless Adapter will get two months trial subscription to Viveport. We'll keep an ear to the ground for more, but in the meantime, head down to the comments section and tell us what you think about the VIVE Wireless Adapter.