HTC U Ultra and U Play hands-on: 2017's Android wildcards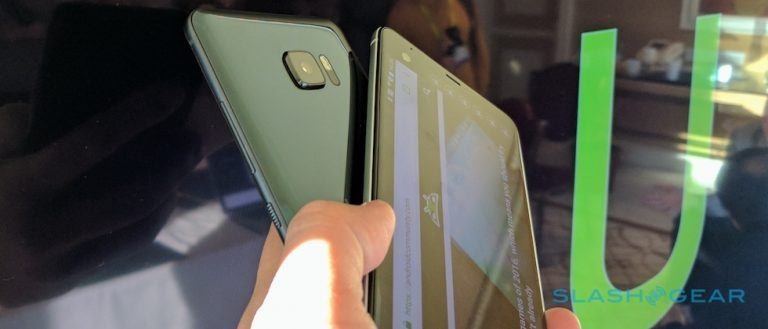 HTC has not one but two new Android smartphones, the HTC U Ultra and HTC U Play, part of its new "U" family that promises to be more personable – and hopefully memorable – than previous handsets from the company. Intended to claw back some of the attention HTC has lost over the past couple of years at the hands of the iPhone and Samsung's relentless Galaxy launches, the concept behind "U" is to buck the status quo, seemingly based on the principle that you might not be able to convince everybody so you might as well really, really cater to a subset of HTC fans. We spent some time with both devices to see if they could sway us.
As the name suggests, the HTC U Ultra is the higher-end device of the two new phones. It fits a 5.7-inch Quad HD 2560 x 1440 Super LCD 5 display into a 162.41 x 79.79 x 7.99 mm, 170 gram body, topped with a 2.0-inch 160 x 1040 resolution secondary display. It's running Qualcomm's Snapdragon 821 quad core, with 4GB of RAM and either 64GB or 128GB of internal storage; the former gets a Gorilla Glass 5 screen cover, while the latter upgrades to sapphire glass.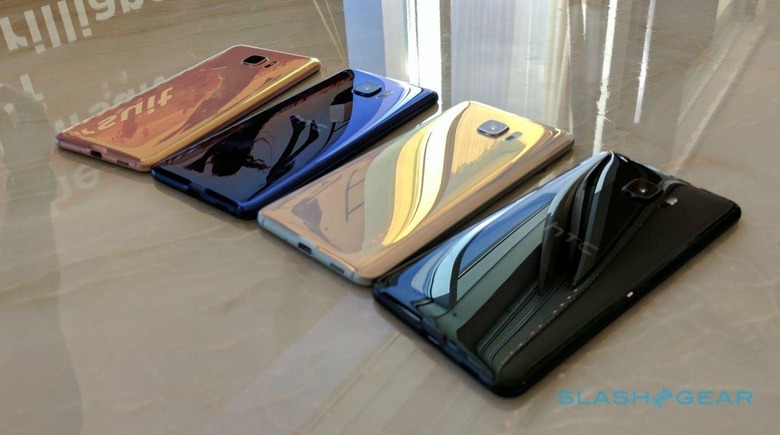 On the back, there's a 12-megapixel HTC UltraPixel 2 camera with laser and phase-detection autofocus, optical image stabilization, an f/1.8 aperture, and a dual-tone LED flash. It'll shoot 4K video with 3D hi-res audio courtesy of four microphones. The front camera is a 16-megapixel UltraPixel, with 1080p Full HD recording.
Single-SIM and dual-SIM versions will be offered, both with microSD slots. There's a fingerprint sensor along with WiFi a/b/g/n/ac, Bluetooth 4.2, NFC, and a USB 3.1 Type-C port for charging the 3,000 mAh battery. HTC says should last for up to 26 hours of talktime, and will recharge faster courtesy of Quick Charge 3.0.
Raw specs don't really communicate the full U Ultra experience, mind. HTC has opted for a "liquid surface" which basically amounts to a vaguely nacreous finish reminiscent of mother-of-pearl. Four colors will be offered – Sapphire Blue, Brilliant Black, Ice White, and Cosmetic Pink – and they each shimmer and reflect beautifully. HTC says it uses "vapored" minerals that it layers on for a consistent effect across the edges and around the curved sides.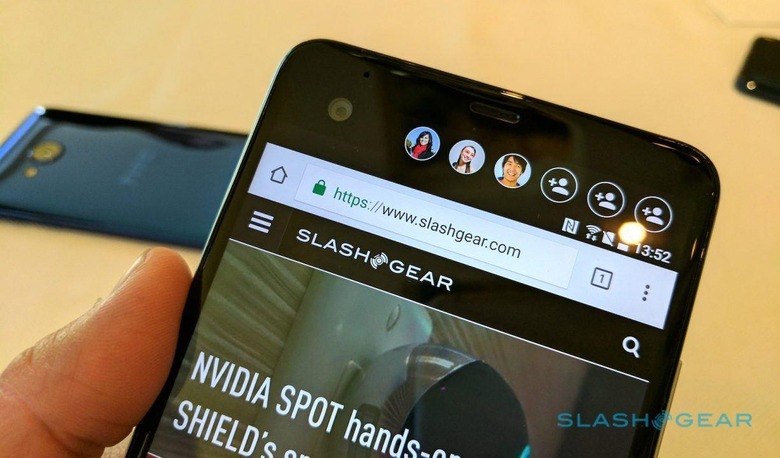 That might grab the attention first, but it's the Dual Display that is likely to keep it. Much like the secondary screen LG used on the V20, the U Ultra has a smaller panel above its primary, 5.7-inch screen, stretching almost all the way across (it cuts short so as to fit in the front-facing camera). As with the V20, HTC uses it as an app launcher, favorites quick-dial, and a ticker for notifications and reminders.
It's not the only play for extreme personalization is making. As well as Android 7.0 Nougat you get HTC Sense Companion, a new iteration of the Sense interface that promises to learn from your patterns and routines, and make practical and useful suggestions. It'll prompt you to take an umbrella if it's raining, or to leave earlier for work if conditions are icy; based on your typical commute, the U Ultra might suggest plugging in for a top-up if it looks likely you'll run out of charge before you get home.
Alternatively, if you grant it permission, it can look at your calendar and figure out when you might need to charge pre-emptively. Just how useful all that is remains to be seen – we obviously didn't have long enough with the phone to see Sense Companion at its most proactive.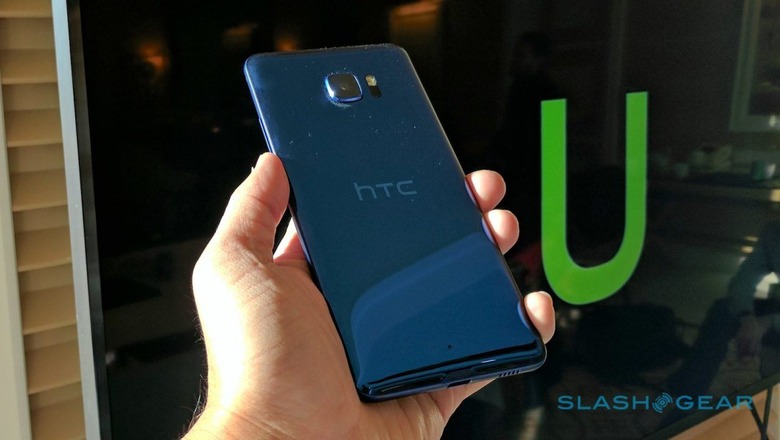 The four microphones aren't only used for 3D audio capture. HTC also relies on them for more accurate voice recognition, with screen-off reactions for things like loading apps, answering calls, dismissing alarms, and more. For music, there's the latest iteration of HTC BoomSound, with a tweeter above and woofer below, as we saw on the HTC 10. If private listening is more your thing, HTC USonic promises to analyze your ear canals with special, USB-C headphones that ping out a sonar-like pulse and then tune the EQ to best suit them.
The HTC U Play, meanwhile, is the smaller, more affordable version of the two new phones. It gets a 5.2-inch 1080p Full HD Super LCD with Gorilla Glass, measures 145.99 x 72.9.x 7.99 mm, and weighs 145 g. It uses a MediaTek Helio P10 octacore processor, with either 32GB or 64GB of storage and 3GB or 4GB of RAM. Either way, you get a microSD slot and either single- or dual-SIM support.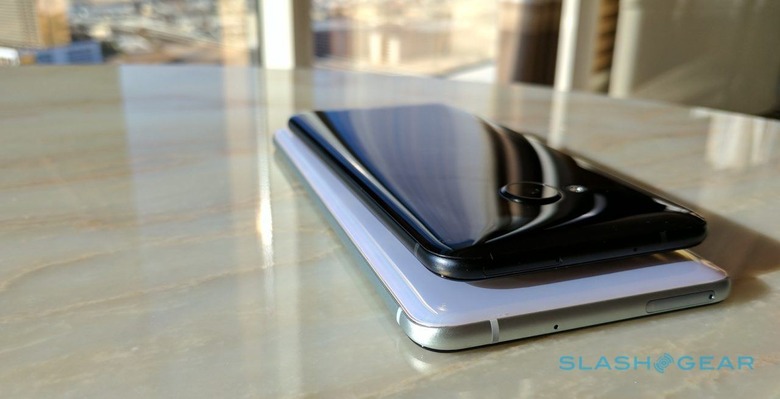 Its main camera shoots 16-megapixels with an f/2.0 aperture, OIS, Full HD video recording, and has phase-detection autofocus. It has twin microphones for noise cancelation, a fingerprint sensor, USB 2.0 Type C, Bluetooth 4.2, and WiFi a/b/g/n/ac, along with NFC. Its battery clocks in at 2,500 mAh, which HTC says should last for more than 15 hours of talktime and recharge with 5V/2A fast charging.
Like the U Ultra it has a curved-edge casing with vapored mineral finish, HTC Sense Companion, and the ability to use USonic headphones to customize audio profiles. Interestingly, on both phones the front camera can switch between two modes: either a regular 16-megapixel for when resolution is important, or an UltraPixel mode which promises four-times the low-light sensitivity.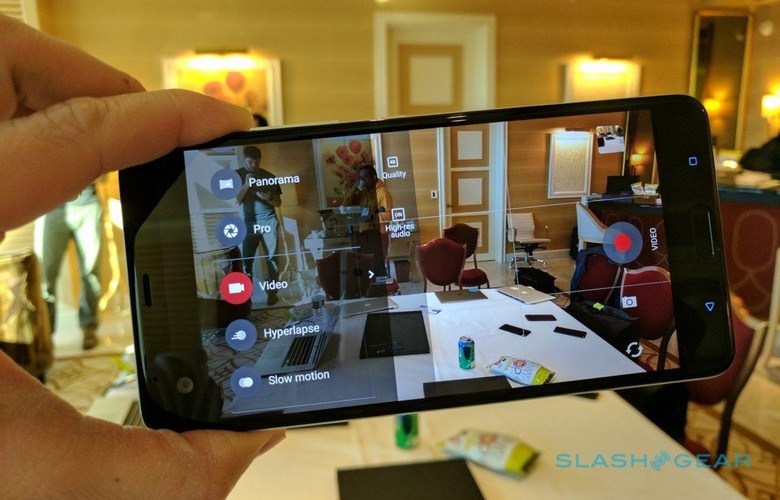 The lingering question, of course, is whether all this is enough to turn around HTC's fortunes. While the smartphone manufacturer has never really had a shortage of solid, beautifully designed devices, it has struggled to raise its profile amid the vast marketing budgets of its deeper-pocketed rivals. In short, it didn't really matter whether HTC's phones were better than alternatives like the Galaxy S7, because nobody really knew about them.
On that level, perhaps making some super-shiny, attention-grabbing Android phones will be just the trick for HTC. The practicality of Sense Companion remains to be seen, and HTC's decision to go for a relatively unadorned camera experience compared to the dual-lenses, optical zooms, and other niceties of current rivals may end up hurting it on paper comparisons, at least. The HTC U Ultra and HTC U Play certainly catch your eye, but time will tell whether they also catch sales.
The HTC U Ultra will go up for preorder in the US today, exclusively from HTC's own web store. As for the HTC U Play, that won't be available until later in the year, "in select global markets" according to HTC.