HTC Thunderbolt Will Function as Mobile Hotspot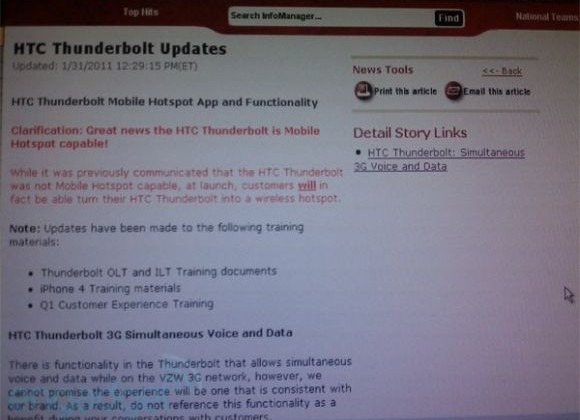 The HTC Thunderbolt is shaping up to be one hell of a powerhouse. The next-gen 1 GHz Snapdragon processor is blazing fast. I spent a lot of time with this phone at CES, and found it just as zippy as any dual-core option at the show. It feels like magic and cold molasses in your hand- HTC's best design by far. Today we've received further confirmation that the LTE smartphone will offer simultaneous voice and data- and we've learned that the ThunderBolt will launch with mobile hotspot functionality.
We'd originally heard that mobile hotspot functionality would not be in at launch. But there's apparently been some sort of turn-around at Big Red. "While it was not previously communicated that the HTC Thunderbolt was not Mobile Hotspot capable, at launch, customers will in fact be able to turn their HTC Thunderbolt into a wireless hotspot."
This leaked internal document also echoes the rumor that the ThunderBolt would have simultaneous voice & data even while not in LTE mode. That fact would not be advertised, due to the service not meeting Verizon's quality standards. This document re-asserts that claim in the same words. Which is pretty compelling evidence of veracity.
Verizon employees started training on the ThunderBolt last week. Employees who attended report the device having simultaneous voice and data capabilities. There have been rumors that the ThunderBolt will see a February 14th launch at MWC 2011.
For an in-depth look at the ThunderBolt, check out our hands-on or this side-by-side with the iPhone 4 and Bionic.
[Via Android Community]