HTC Shift mobile computer sports Intel's new Ultra Mobile platform 2007!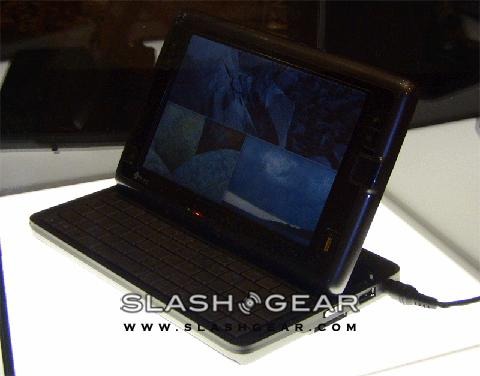 Up until today, HTC kept the heart and soul of the Shift under lock and key. Today, at the Intel Developer Forum, HTC announced that its new groundbreaking mobile computer, the HTC Shift, would feature Intel's new Ultra Mobile Platform 2007.
Intel's Ultra Mobile platform 2007 is based on the Intel Pentium M architecture consisting of the Intel A110 processor, Intel 945GU Express chipset, and Intel ICH74 I/O controller hub. So what does all this mean to you as the owner of the Shift? Simply put, you'll get a significantly longer battery life.
I had a chance to test out the Shift at CTIA wireless, and must confess that it just rocks. There are so many high-end features such as an innovative QWERTY-based keyboard layout, 3G connectivity (high-speed global connectivity with Tri-band UMTS/HSDPA), Quad-Band GSM/GPRS/EDGE, Bluetooth 2.0 and Wi-Fi.
I can't wait to get my hands on a production unit to review!