HTC One Max gets official with 5.9-inch screen and fingerprint sensor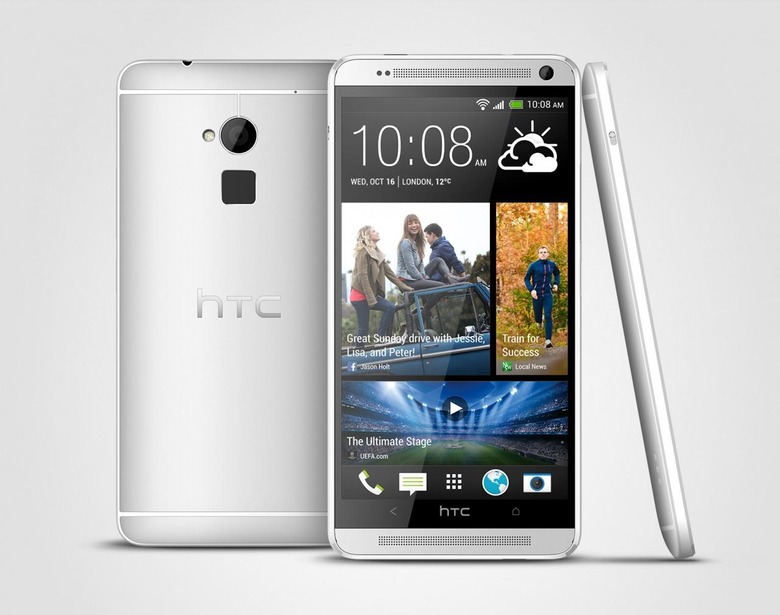 After weeks of rumors and speculation HTC has gone official with the new One Max Smartphone. The HTC One Max specifications have been confirmed and include a 5.9-inch display supporting full HD 1080p resolution. The smartphone also uses HTC Sense 5.5.
Many of the rumors have focused on a fingerprint sensor and the official HTC announcement has confirmed that a fingerprint sensor is built into the device supporting the new Fingerprint Scan feature. The Fingerprint Scan feature allows users to lock or unlock the device using a fingerprint. The fingerprint scanner also allows users to launch up to three of their favorite applications by signing an individual finger to each of those apps.
The smartphone features a QUALCOMM Snapdragon 600 processor operating at 1.7 GHz. It will be available with 16 GB or 32 GB of integrated storage space. Storage will be expandable via microSD card slots and buyers will get access to 50 GB of free Google Drive online storage. Power for the smartphone comes from a large 3300 mAh internal battery and an optional HTC Power Flip Case is available adding an additional 1150 mAh battery. The smartphone has a 2.1-megapixel front camera capable full HD resolution video and photos and an UltraPixel rear camera.
The phone runs Android 4.3 and features 2 GB of RAM. The smartphone is offered in silver and will begin rolling out globally starting in mid-October. The rollout will continue to the end of October with specific launch date being announced for individual regions later. Pricing is unknown at this time.
SOURCE: Android Community