Now that the HTC One M9 is official, you might be wondering if it's time to upgrade. Sporting all the latest specs, like a Snapdragon 810 octa-core CPU and 3GB RAM, might make you wonder if it's that much better than your current phone. A new 20-megapixel rear shooter and Ultrapixel front-facing camera are quite the pair, too. If oyu've got a One M8, you're probably one of the many who love their phone, so rather than keep you guessing about whether an upgrade is worth it, we'll break it down.

Before we get into any opinion, here are the hardline specs for each phone (One M9 in bold):
Display: 5-inch Full HD 1520 x 2688, 5-inch 1080 x 1920
SoC: Snapdragon 810 (octa-core, 4 x 2GHZ + 4 x 1.5GHz), Snapdragon 801 (quad-core, up to 2.3GHz)
RAM: 3GB, 2GB
Memory: 32GB, 16/32GB (both expandable via microSD card, supports up to 128GB)
Rear Camera: 20MP f/2.2 (27.8MP wide-angle), Dual camera 4MP f/2.0
Front Camera: UltraPixel, 5MP
Battery: 2840mAh, 2600mAh
That's the core spec-sheet stuff. As you can see, the processor is a big uptick, and moving from quad-core to octa-core will help power users out quite a bit. For those who don't use their phone for multi-tasking or heavier gaming, we doubt the difference will be noticeable.
The display change is going to make a big difference when you're looking at pics or other media. Day-to-day, it likely won't do much more than the One M8 did. Still, HTC did a good job, here — good enough to be noticeably different, at least.
The uptick in RAM is again great for power users. With a 64-bit octa-core processor, more RAM means more room to run. Memory is again a wash — 32GB and expandable is just fine by us. The battery size change is not going to bring in a ton of extra time with your handset, so it's not a big deal.
The rear camera on the One M9 sounds wonderful on paper, but we're going to wait for more hands-on time before we get into an opinion about it. 20MP versus 4MP sounds amazing, but the f/2.2 versus f/2.0 might make a difference, and we all know megapixels don't tell the whole story. Going to a larger megapixel count in wide-angle is neat, though.
HTC's front-facing camera will probably make video chatters and selfie-takers happy. What HTC has essentially done is taken the rear-facing cam of the One M8 and moved it to the front of the One M9. This is pretty special, as the One M8's camera was more than adequate for casual shots, which is what selfies and video chats really are.
Intangibles abound, though. HTC has something called themes this time around, which add a layer of customization to your handset. Sense is also reworked a touch, which is subjective to taste. We like what HTC has done, but you might find it muddled. The aim is to be more contextual, and it's an improvement on an already good Android overlay. Again, we'll wait for more time with the new-look Sense.
So, should you upgrade? If you're ready to, we'd say yes. Though an iterative upgrade, the One M9 is really good — HTC has done a nice job in upgrading a phone some thought was the best Android handset of 2014. The octa-core processor keeps up with even the most strenuous tasks we tossed its way, and 3GB RAM keeps it from thinking too hard. We're not totally sold on the camera yet, but that just means we need more time with it.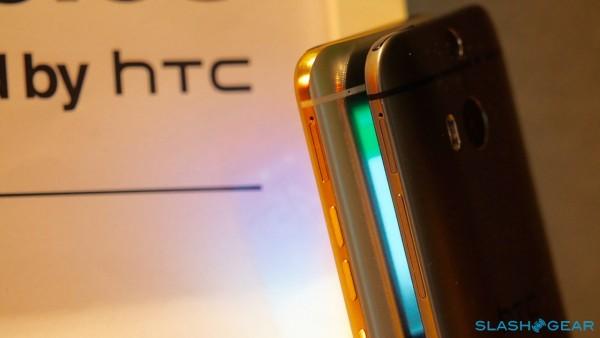 On the flip-side, if you're happy with your One M8, or aren't in a position to upgrade, you won't feel too left out. The One M9 is a really nice handset, but it doesn't distance itself like HTC did when they went from the One M7 to the One M8. That was a substantial change — this isn't as drastic. The One M9 is definitely a keeper, though.