HTC Hero Getting Updated Soon?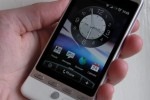 There isn't much to go on here, just a quick post from a member of our Android Community's forums, but it's definitely something to get excited about. If you have an HTC Hero that is. There's been some squabbling around the internet about the Hero, dating back to before official launch, and most of it consists about the user experience, and whether or not there is any lag. We did a review of the device, and while we enjoyed it, there was obviously some room for improvements. But, that's part of having a piece of technology now a days. HTC made some remarks, stating that some optimizations could be rolling out, and even said that word we all love in this business: soon.
Vonn, over at the Android Community forum, stated that he got an email from HTC Customer Service, which had been routed from HTC's head office. The message said, "HTC is actively working on a software update that will make your experience on your Hero device better. A partial update is ready in 10 days and a major release will be available in mid-September containing local language support.. Please check our website from time to time and update your device when the software is available." Vonn adds that Customer Care could not tell him what, exactly, would be included in either update.
Now, we should point out the language of the email itself. We can tell that this isn't necessarily copy and pasted, but at the same time, that leaves a lot to be desired. Or, if it is, then perhaps Customer Service is not keen on punctuation or grammar. And truth be told, with a post such as this, this has to be taken into account. On the other hand, HTC hasn't been forthcoming with updates since the release of the Hero, as they did release an update to PC/HTC Sync on August 4, but if you have the phone in America unlocked, you didn't get that memo. So, HTC could very well be ramping up to release a minor software update here in the next 10 days, which very much falls into their "soon" projection.
[Thanks, Vonn]