While Microsoft managed to announce a plethora of Windows Phone 7-based devices today, there were only a couple of them that really stood out in the crowd. One of them, while sharing quite a few internal characteristics with devices already on the market, is the HD7. And, while we could spend all day comparing them to other devices, we'll go ahead and pit the upcoming device against a heavy-hitter: Apple's iPhone 4.
The Hardware
Putting the iPhone 4 and the HTC HD7 next to one another, and the difference in hardware is obvious from the get-go. The iPhone 4 features a 3.5-inch display, while the HD7 muscles in with a 4.3-inch version. Both of them are capacitive, and while we've never really had any problems with the iPhone 4's touch responsiveness, the HD7 is a strong competitor on that front. The large display is very responsive, and we didn't have trouble with it recognizing our inputs from one corner to the next.
In your hand, the HD7 and iPhone 4 are both comfortable in their own right. However, the size of the HD7, and the fact that while the device may be almost as thin as the iPhone 4, there's a rounded back, may make it hard for some with smaller hands to hold the Windows Phone 7 smartphone comfortably. The flat-back of the iPhone 4 and its more "modest" size may make it more approachable to some. But, the HD7 does indeed come with a kickstand, which will make it easier for those watching a movie to enjoy it, by setting it down on a flat surface.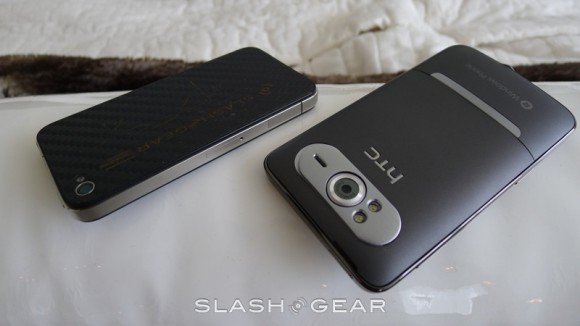 And then there's the ultimate comparison: does size matter, especially when it comes to displays? The HD7's 4.3-inch display is a monster, especially when put against the iPhone 4's 3.5-inch model. However, the Retina Display on the iPhone 4 makes it pop, so the size of the display doesn't seem to matter at all. Furthermore, the HD7's display is just an LCD TFT display, and in today's age where we have Super AMOLED displays, Super LCD, IPS, and especially Retina Displays, it just doesn't compete. That doesn't mean that the HD7's display is bad in its own right, but comparing it to the iPhone 4's Retina Display just shows how far back the HD7 is when it comes to displays, even if it is huge.
The Software
While we've had a technical preview of Windows Phone 7 in the past, it wasn't running on the HD7, and nor did we have much time to play around with Microsoft's newest mobile Operating System today. So, judging software at this stage is still "early," and will get more complete as we get our hands-on time with the device lengthened, and we can really put it through its paces. But, with just an initial preview, the major differences between Microsoft's Windows Phone 7 and Apple's iOS are pretty clear.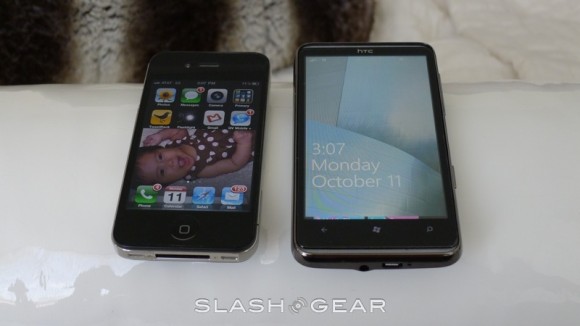 First and foremost, while Microsoft believes that passage through one feature, to one application, to something else entirely in Windows Phone 7 is intuitive and clean, there are some out there that may see it completely opposite. The fact that panning to the left and right, in the panoramic state that is constantly utilized in WP7, gets you to more features of a certain application or setting, or feature in the phone, it may get cumbersome for some customers. Especially those who believe that "less is more," Microsoft clearly doesn't follow this motto, as they've thrown just about every window animation you can think of into the mix. They want the experience to be in-depth and enjoyable, and the result seems to be a heavy mix of entertainment, even in the functionality aspect of the devices.
Compare that to the ridiculously easy way of navigation in iOS, from accessing features, applications, to settings, or just general use of the device, and Microsoft's Windows Phone 7 could potentially feel cluttered, and just overburdened with things that it doesn't need. While the home screen of Windows Phone 7 may not be as (seemingly) complex as the rest of the device, those Hubs will lead users further into the depths of the device, where they will find that the panorama viewscape is the only way to get anything done.
As far as functionality goes, we seem to be at a strange stand-still. While Apple is now on version 4 of their iOS mobile Operating System, and it has seen advancements in Copy & Paste, as well as other features that people believed were absolutely essential to a phone of its class, it looks like Microsoft disagrees with that place. In fact, they believe that you don't necessarily need those features to make a great mobile platform. With that in mind, we know that Windows Phone 7, out of the gate, will not support Copy & Paste, and it will not allow for third party multitasking. Your Pandora application won't run in the background, unfortunately, though you can pause it, and come back to it later.
Is this a bad place for Microsoft to enter into the market? We know that Microsoft plans on updating Windows Phone 7 in early 2011 to bring Copy & Paste to the software, and there's rumors that the update itself will be bigger, and feature more changes and updates than just Copy & Paste. With that in mind, it's possible that Microsoft will alter their rules, and allow for third party multitasking in the background. Even if it isn't in that update, it could come later — and considering that's exactly what Apple did over the years, there's no reason why Microsoft can't do the same thing.
Though, some would argue that not having the functionality out of the gate is a major hindrance, even if they do plan on changing it some time in the future. If not having third party multitasking or Copy & Paste out of the gate for your Windows Phone 7 device means it's a deal breaker, it looks like you'll have to wait until 2011 to give Microsoft's newest mobile OS a second look.
Software wise, the possibilities to compare and contrast the two devices are almost endless. One could go on forever nit-picking or focusing on any one feature, or lack there of, and fight to the death with the information in hand. But, we won't do that. Instead, we'll focus on the mobile gaming aspect of the devices.
Game Center vs Xbox LIVE
One of Apple's main points at the unveiling for iOS 4, was Game Center. Apple knows that the iPhone and iPod Touch are major contenders in the gaming space, and so they made sure that people could enjoy it more, the more they played. With the introduction of Game Center, Apple brought a social aspect to gaming on your mobile device. You now have competitive games, scoreboards, and a way to interact with friends in a whole new way. But, there's not a lot of depth to the Game Center (yet), and so right now it seems to pale in comparison to what Microsoft has planned for Xbox LIVE integration and Windows Phone 7.
Right from the start, Microsoft made it known that playing games on Windows Phone 7 would be a whole new experience. And while not every game you'll be playing will feature integration to Xbox LIVE and your Gamertag/Avatar, there's going to be plenty that do right off the bat, with the list only growing over time. Right from your smartphone, you'll be able to check on your friends, see what games you've played, and see where your Gamerscore is. You'll also be able to see your Xbox LIVE Avatar, change their features, and even add to them. You'll be able to interact with them in much the same way you already do at home from the Xbox 360.
The gaming aspect for Microsoft is a major one, and they've been in the market for awhile now. While Apple may be seen as a new contender, one that's new to the story, they've already displayed that they know what they're doing, and are ready to take the steps necessary to make sure that gamers on their platform are enjoying themselves, and interacting with others. However, Microsoft will be doing the same thing with Xbox LIVE integration, but adding a lot more depth to the experience. Will it pay off?
In the End
As with any other comparison ever done in the past, the end result is completely based on your own personal preference. Are you a fan of Apple? Do you hate Microsoft? All of these things play a big role in your next purchase. And, while there may be some aspects of one platform you enjoy, and others that you abhor, it's the total package that you have to look at, consider, and then ultimately make a decision on. Does Microsoft's upcoming Windows Phone 7 stand a chance against the already implanted competition? Of course, but that doesn't mean it will. The hardware looks impressive, and while Apple may have only "one" piece of hardware to promote the iPhone name (albeit, in different colors (soon)), Microsoft is jumping ahead and launching 10 devices at once, with more to come next year.
Will it be enough to dethrone the reigning champion and rising successors? Only time will tell. If Microsoft can continue to make OEMs release high-end devices, featuring specifications that anyone would drool at and hardware that catches the eye, then surely the Redmond-based company can have a chance in this heated market. But, they'll have to add some standard features, and listen to the community as they continue, or it won't matter what they do — people will move on. In the end, does the HTC HD7 compare to the iPhone 4? In some ways, yes, and others, no. But, if anything, it is a strong effort from Microsoft, and one that will more than likely see the company releasing plenty of noticeable devices.
For more information and discussion regarding Windows Phone 7, check out Windows Phone Forums.