HTC EVO 4G Makes an Appearance in Sprint Inventory System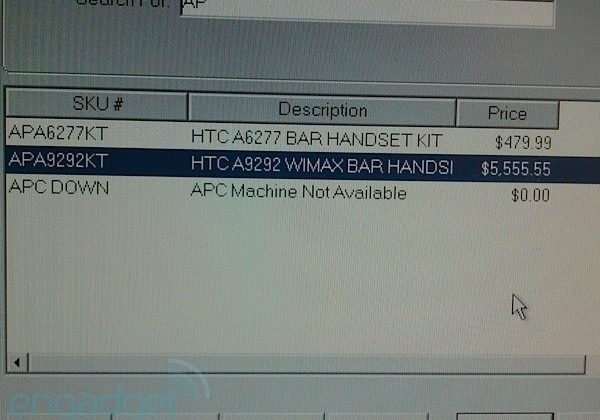 When the HTC EVO 4G was announced, it made the Android fans out there squirm. They finally had the HD2, but with Android and not that dated Windows Mobile Operating System. On top of that, this would be Sprint's pioneering leap into the 4G handset world, and they wanted to make sure that they made a significant splash. And, while we've heard that the higher-ups at Sprint want the device in customer's hands by June, it looks like the device made its way into the inventory system a bit early.
There's only one catch: if the phone was in stores right now, and you managed to get your hands on one, you might have a small (figuratively speaking) panic attack at the cost the Sprint employer told you: $5,555.55. Yep, that sounds about right, right? After all, you get WiMAX, and Android 2.1 on a 4.3-inch capacitive touchscreen. Wouldn't you pay five thousand dollars for a device like that?
We're still leaning towards a June launch, so don't expect to start seeing boxes of the handset make their way into Sprint stores just yet. And, even though that A9292 model number certainly matches the device, we're going to put our word on the fact that that price is going to change. Unless someone in Sprint has completely lost their mind. Or, maybe if it's made of marble.
[via Engadget]