HTC EVO 4G For Sprint Updating To Android 2.2 Beginning August 3rd

Sprint has apparently done what many thought impossible: finished testing on Android 2.2 for the EVO 4G, before the end of the year. In fact, it's happening next week. There had been some rumors earlier today that suggested the update would actually start trickling out to EVO owners beginning tomorrow, but it looks like Sprint has come forward and set the record straight. Thankfully, it's still good news.
According to an official press release from the wireless carrier, EVO owners should expect to get an OTA notification beginning August 3rd. Now, as is the case with all other OTA updates, for pretty much every other carrier out there and every phone that can do it, this is going to be a staggered roll-out. Not all the EVO owners out there are going to get it at the same time, or the first day. There's just too many of you, after all.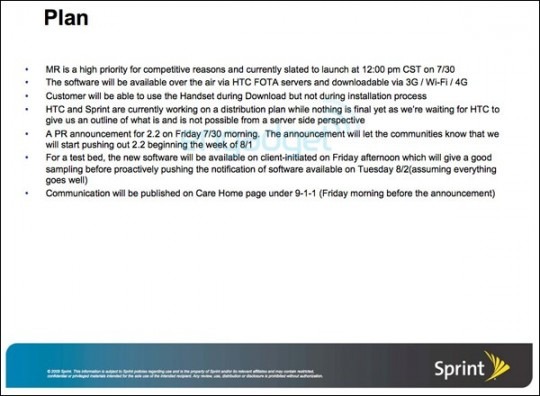 However, Sprint is also quick to mention another way you can get the update notification. Instead of waiting with your hands under you, at the edge of your chair, you can just go into the Settings menu of your EVO, and find System Updates. Just selecting that will make your EVO start searching for the update, and as soon as it's found, you'll go through the process. So, no waiting. Check out the full press release below.
[via Android Community]
Press Release
Sprint is the first wireless carrier to bring Android 2.2 to customers using the award-winning HTC EVO™ 4G beginning Tuesday, Aug. 3
Android 2.2 offers HTC EVO 4G feature enhancements including Bluetooth® voice dialing, built-in Flash, the ability to store apps to the memory card and much, much more
The award-winning HTC EVO 4G just got that much better. We are excited to announce that beginning the week of Aug. 1; Sprint will begin rolling out the Android 2.2 upgrade to its HTC EVO 4G customers.
Sprint will be the first wireless carrier to bring1 the latest version of Android to its customers. The Android 2.2 software release provides a significant number of feature enhancements, including:
• Voice Dialing Over Bluetooth.
• Application Storage on External Memory, giving users more storage room for all their apps.
• Camera 4-way rotation allows the camera icons to rotate with the camera.
• Improved Browser Performance including a faster JavaScript engine and Flash 10x Support improving the user's ability to view videos and available content associated with web pages.
"Sprint is thrilled with our customers' response to HTC EVO 4G and the innovative and exciting experience it offers," said Fared Adib, vice president – Product Development for Sprint. "It is exciting for us to lead the industry in bringing the Android 2.2 update to these customers and improve on the amazing experience they receive with America's first 4G capable phone."
Easy Downloading
Sprint will begin sending update notifications to users in waves beginning Tuesday, Aug. 3 and the upgrade should be available for all HTC EVO 4G users by the middle of August.
The notification will let the users know that the update is available and it will provide the simple two-step over-the-air download process.
1. Users will receive a notification that Android 2.2 is available for download.
2. Once the user has downloaded the update, they will be prompted to install the update. The user will be notified that their device will be disabled during the installation process. The phone will be ready to use once the process completes.
For those who just can't wait to get Android 2.2, there will be an easy user initiated option to download the upgrade. Customers can access the software update through their HTC EVO 4G under the Settings Menu System Updates HTC Software Update. This will initiate the three-step process also.
Customer favorites on HTC EVO 4G's long list of features include the 4.3-inch screen, dual 8MP video camera capable of capturing HD quality and front-facing 1.3MP camera. They also appreciate the HDMI output jack making it simple to start a movie for your children in the backseat of the car with the phone and then connect to an HDTV to finish it when you arrive at home.2 Business customers highlight its super-fast 1GHz processor, simultaneous voice and data capability in 4G or Wi-Fi coverage areas enabling Web surfing and more during conversation, and built-in mobile hotspot for up to eight Wi-Fi enabled devices.3 For HTC EVO 4G images visit Sprint's image gallery.
Amazing at 3G, Unbelievable at 4G
Sprint is the first national carrier offering the next generation of broadband technology today in 43 markets. Sprint 4G delivers download speeds up to 10 times faster than 3G from any other wireless carrier4, giving HTC EVO 4G a faster data speeds than any U.S. wireless device available today. HTC EVO 4G's exciting features and applications are compelling and powerful in a 3G world, but they become even more amazing when experienced with 4G speeds.