HP's new ZBooks prove mobile workstations needn't be ugly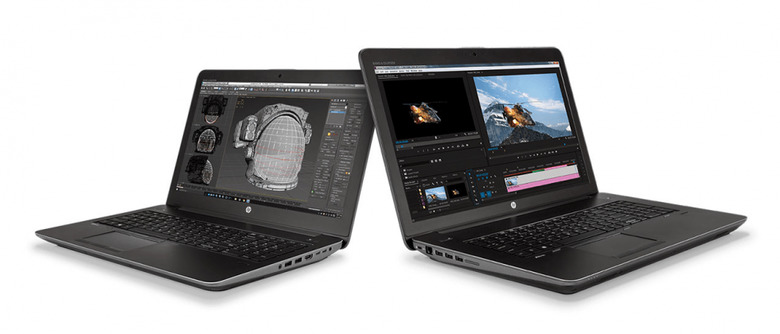 HP is adding some new notebooks to its ZBook line of workstations today, and each one has an angle meant to attract different segments of users. They all share a few common themes, though: creativity and security. HP also seems to have put effort into making these notebooks sleek and relatively lightweight, which will certainly be appreciated because no one wants a bulky and unattractive machine.
If you need something with a high resolution display and long battery life, HP would like to draw your attention to the ZBook Studio. This notebook offers a 15-inch 4K display that's equipped with HP DreamColor and supports Adobe RGB. You'll have you choice of seventh-gen Intel Core i5, i7, or Xeon CPUs, and you can even tack on NVIDIA Quadro graphics if you need more power beyond Intel integrated graphics. The 4K display will likely be the main draw here, but HP also says that battery can last as long as 16.5 hours with some configurations.
If power, on the other hand, is the most important thing, then there are the ZBook 15 or ZBook 17. In the ZBook 17 specifically, HP is giving Core i5 CPUs a pass entirely, offering only Core i7 or Xeon configurations. You still have the option of upgrading to discrete graphics if you so choose, but with these two, you're not limited to just NVIDIA Quadro cards – you can select an AMD RadeonPro if that's more your style.
With some configurations, HP touts the ZBook 17 as a notebook that's capable of supporting VR content at 90 fps. None of the other notebooks in this new group do that, so if you need a mobile workstation that can, this is certainly the one for you. While we'd normally think that you want a desktop to produce and play VR content, HP's claims here are certainly intriguing.
Finally, we come to the ZBook 14u – the smallest of the bunch and likely the one to pick if you want a more traditional Ultrabook experience. With a full HD 14-inch display, seventh-gen Intel Core CPUs, and options for up to 32GB of RAM and AMD FirePro graphics, you may not have as much power as you do with other notebooks in the line, but things should be quite speedy nonetheless.
All of these come with third generation HP Sure Start security features, which grant your machine a self-healing BIOS and access to security features such as encryption, malware protection, and threat detection. In short, if HP is going to try to sell content creators on these notebooks, it hopes that the addition of HP Sure Start will give those creators a certain peace of mind when it comes to things like IP theft.
The ZBook Studio, ZBook 15, and ZBook 17 are launching today and are available through HP's website. ZBook Studio configurations begin at $1,399, while the ZBook 15 starts at $1,419. That leaves the ZBook 17 as the most expensive of the bunch, which has a starting price at $1,519. Those who want a ZBook 14u will have to wait a bit longer, as it won't be arriving until summer, with pricing announced at a later date.