HP TouchSmart tx2, 300, 600 and 9100 get Windows 7 multitouch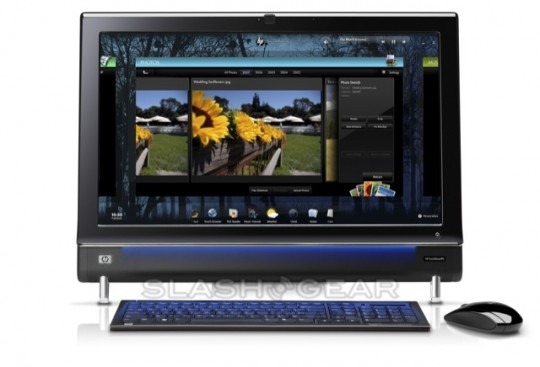 HP have gone touch-crazy in the run-up to Windows 7's release, pushing out several new touch-sensitive products including a 42-inch widescreen LCD.  The HP TouchSmart tx2 updates the original convertible tx2, and has a 12.1-inch capacitive touchscreen which also accepts stylus input; meanwhile there are two new TouchSmart desktop ranges, in the shape of the consumer-oriented HP TouchSmart 300 and 600 – at 20- and 23-inches respectively – and the business-centric HP TouchSmart 9100, a 23-inch model targeted at the hospitality and retail markets.
The TouchSmart tx2 uses AMD's Turion X2 dual-core 2.20GHz CPU with 4GB of RAM (8GB supported), ATI Radeon HD 3200  graphics and a 320GB 7,200rpm hard-drive.  Gigabit ethernet, WiFi b/g, HMDI and a 6-cell battery are standard, together with a DVD burner, and it comes with various touch-control apps for entertainment and media playback.  Pricing will start at $799.99.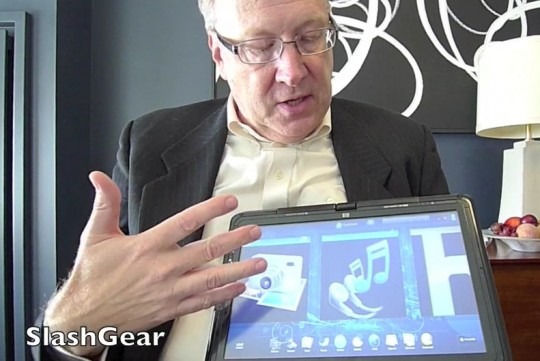 As for the HP TouchSmart 300 and 600 consumer desktops, they'll be available with AMD Athlon II X2 and Intel Core 2 Duo processors respectively, 4GB of RAM and a slot-loading DVD burner (with a Blu-ray player on the top-spec 600-1055).  The 300-series get ATI Radeon HD 3200 graphics and WiFi b/g/n, with the 300-1020 having a 500GB hard-drive and the 300-1025 getting 640GB and an integrated HDTV tuner.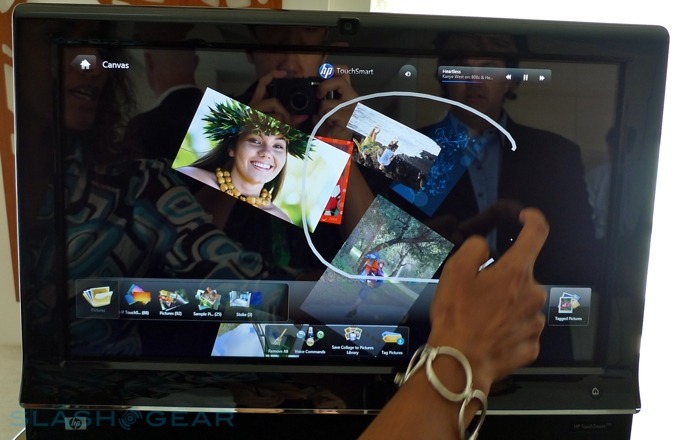 Meanwhile the 600-series use NVIDIA GeForce G200 and GT 230M graphics on the 600-1050 and 600-1055 respectively, with both machines getting a 750GB hard-drive, Bluetooth and WiFi b/g/n, together with an HDTV tuner.  Select models also have an HDMI input allowing you to use them as displays.  The HP TouchSmart 300 range will start from $899, while the TouchSmart 600 range kicks off at $1,049.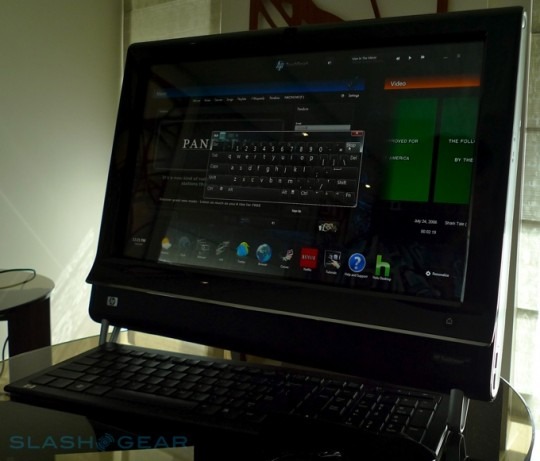 The HP TouchSmart 9100 Business PC borrows the 23-inch display and styling of the 600-series, and offers a choice of Intel Core 2 Duo CPUs, up to 8GB of memory, 250GB to 500GB of HDD space (or a 64GB SSD) and a choice of NVIDIA GeForce 200 or GT230M graphics.  There's also an optional TV tuner, and a choice of slot-loading DVD or Blu ray drives.  No word on pricing as yet.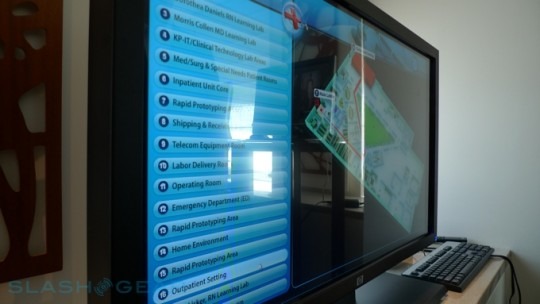 Finally, the HP LD4200tm 42-inch Widescreen LCD Interactive Digital Signage Display is, as the name suggests, not really intended for your living room; instead, it uses infrared tracking to respond to finger-touch in business and commercial environments.  It runs at 1920 x 1080 Full HD resolution and can track two-finger multitouch gestures; ports include VGA, HDMI, 2 x component, composite, S-Video, and USB.  No word on pricing as yet.
HP TouchSmart 300 and 600 Demo
[vms 4977cacbfcbb00c48f13]
John Cook, VP of Marketing, Consumer PC Business
[vms b5b27aa7cb790dc20f80]