HP Slate 500 tablets shipping according to early buyer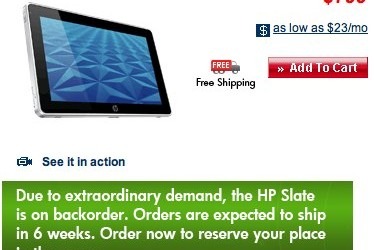 HP teased us all for a while with the Slate tablet computer. We started to wonder if the thing would turn out to be nothing more than vaporware. HP finally put the Slate up for sale and the demand from consumers quickly resulted in a wait of 6-weeks according to HP when it announced the delay in November.
One geek that had pre-ordered the HP Slate is now reporting that an email has been received from HP that notifying him that the Slate tablets is shipping. One user reports that his charge for the Slate had been pending for a week or so and the notification of shipment came in a few days back.
The user going by the handle heatlessun on the Tabletpcreview forums that received the shipment notification reports he pre-ordered his Slate on launch day, October 22, and that he has received shipment tracking info from Fedex and the machine is set to show up at this door today. If you ordered early, be sure and let us know what you think once you get your hands on your Slate.
Thanks Henry!