HP Mini 311 Rumored to have Ion LE graphics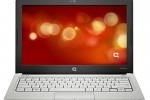 The world of technology and rumors about new products go together like peanut butter and jelly or Microsoft and antitrust investigations. A new rumor is making its rounds that has a new HP netbook coming called the Mini 311 that sports some very nice features.
The specs were dug up on a Dutch shopping engine, so they may or may not be accurate. The specs are thought to include an Atom N270, 1GB of RAM, a 160GB HDD, and a 6-cell battery. Gizmodo reports that the machine is believed to cram NVIDIA Ion LE graphics inside as well.
Other rumored new machines coming out of HP include a CULV running Pavilion dm3 with an 11.6-inch screen and a dm1 with a 13.3-inch LCD along with a big daddy 18.4-inch Pavilion dv8 running a mobile Intel Core i7 CPU. Scuttlebutt has the machines hitting in October around the launch of Windows 7, but this could all be smoke and mirrors.