HP Mini 1000 netbook gets quiet price drop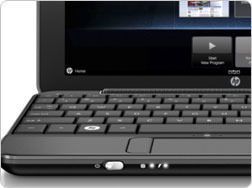 Well, it looks like HP is working hard to sell their products despite the recession. Their HP Mini 1000 netbook got a price drop today, bringing the cost down from $400 to $360. This makes it more competitive to similar netbooks that cost less and makes it a more realistic buying option for many on a budget.
But the price drop isn't the only news. In fact, now you can up the RAM to 1GB for free. What this means is that the typical upgrade option has been removed and made standard. This has also made it so the shipping price decreased.
That's pretty much all that's new about the HP Mini 1000, but it's still pretty cool anyway. Other options include a 16GB SSD or a 60GB HDD. You can also choose between an 8.9-inch display and a 10.2-inch one. 3G and Bluetooth were also added as options. The new price drop on the Mini 1000 will be available for shipment starting on December 17th.