HP gets official in UK with dv8 plus updated dv6 and dv7 notebooks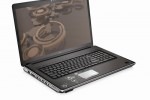 HP is the largest computer maker in the world and as such, it is always offering new and updated products for its customers. HP has gone official with the announcement of the dv8 multimedia notebook in the UK along with updates to its dv7 and dv6 notebooks. We already know about the dv8 from its September unveiling here in the US.
In case you missed the dv8 before, it is an 18.4-inch full HD multimedia notebook with a Blu-ray player and Intel Core i7 power. Graphics for the machine are via NVIDIA GeForce GT 230M with 1GB of DDR3 RAM and the machine has an integrated TV tuner.
HP has also announced that it is updating its dv6 and dv7 entertainment laptops. The dv6 is a 15.6-inch machine and the dv7 is a 17.3-inch notebook. Both computers are aimed at multimedia duties and have been upgraded with a choice of Intel Core i7 CPUs or AMD Turion II Ultra dual-core CPUs. The machines also get optional NVIDIA graphics. The dv8 will sell for £1299.99, the dv7 for £599.99, and the dv6 for £449.99 when they all go on sale on October 22.