HP ENVY Rove 20 is maker's first mobile all-in-one PC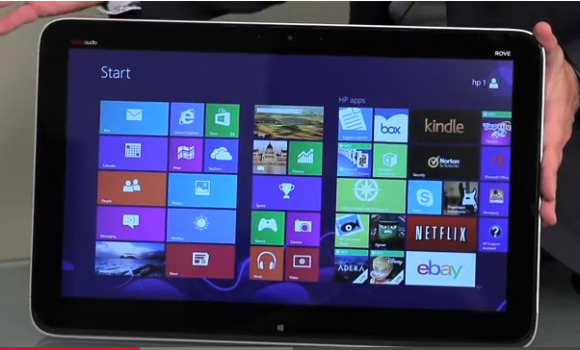 HP has announced its first mobile all-in-one PC, the HP ENVY Rove 20. As the name suggests, this AiO unit measures in at 20-inches corner-to-corner, and features a battery, allowing users to unplug it and go cable-free. This differentiates the device from many other all-in-one units, which – like a regular desktop computer – turn off when unplugged. We've got a video of the massive slate after the break.
The display comes in the form of an IPS LED panel offering a resolution of 1600 x 900 with 10-point touch, and audio is courtesy of integrated Beats Audio. Under the hood, the HP ENVY Rove 20 runs 4th generation Intel Core processors and Intel HD graphics. The AiO PC has an adjustable kickstand on the back for propping the device up. As far as software goes, HP preloads the ginormous slate with some games, including Monopoly.
HP's Consumer PCs and Solutions Senior VP and General Counsel Ron Coughlin said: "Customers are looking for mobility and flexibility in their computing devices to give families new ways to bring generations together. HP is evolving to meet our customers' needs by designing next-generation form factors, like the Rove mobile All-in-One PC, which will enable people to connect, share and create in ways they never imagined."
In addition to the ENVY Rove 20, HP also announced a couple other devices, including the HP Pavilion 20 TouchSmart and Pavilion 23 TouchSmart All-in-One PCs, the HP Pavilion 11 TouchSmart Notebook, and the HP Pavilion 14 TouchSmart Sleekbook. Obviously, all four PCs offer touch panel displays, allowing users to take advantage of Windows 8's touch-based design.
And finally, rounding out the announcement are two new compact printers, the HP ENVY 4500 All-in-One and the HP 5530 e-All-in-One. Both are color printers offering HP ePrint and HP wireless direct. With this functionality, consumers can print from a mobile device, such as an iPad, iPhone, and iPod Touch.
All the PCs will be launched in June, with the exception of the HP ENVY Rove 20, which will be released in July for a yet-unspecified price. The Pavilion 20 TouchSmart AiO will be priced at $620, the Pavilion 23 TouchSmart AiO will be priced at $750, the Pavilion 11 TouchSmart Notebook at $400, and the Pavilion 14 TouchSmart Sleekbook at $480. All prices are the base rate, and will increase depending on user customizations.
The ENVY 4500 (launch in June) printer will start at $99, and the ENVY 5530 eAiO (launch in July) at $130.
SOURCE: HP