HP Envy 17 3D, Envy 14 Beats Edition, Pavilion dm3 Break Cover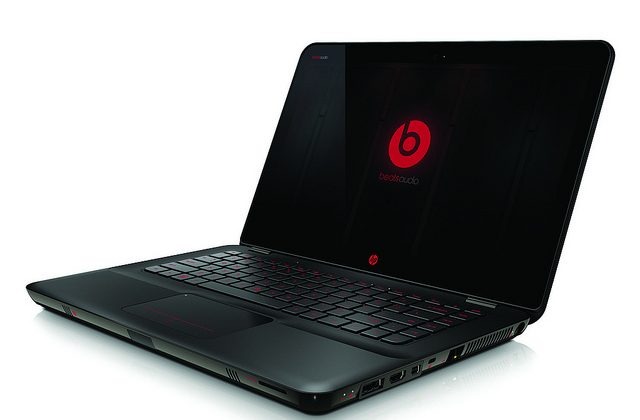 It's late, but the news never sleeps, right? That's what HP must be thinking, because they've just officially announced, by way of several press releases, a whole line of laptops. While it's plenty of devices we've actually heard of before in the past, the updates to the line-up are indeed noteworthy. Especially if you're a fan of high-profile audio sounds, and 3D. So, if you're curious to see what HP's got coming down the line, dig in past the break.
First up is the HP Envy 17 3D, which you might have surmised from the name, features 3D technology. In fact, HP boasts that it's the first 17.3-inch notebook PC to support full 1080p HD 3D and Blu-ray. If that's not enough for you, it also features Beats Audio, as well as HP's Triple Bass Reflex subwoofer, tucked away inside. The display itself is of the BrightView origin, so your picture should be pretty clear, whether displayed in 3D or 2D. And with HP's 3D Active Shutter glasses, your viewing experience should be good enough to want to do it again and again. The case of the Envy 17 3D is made of etched aluminum, and you can customize it to fit your needs, with up to 2TB of storage, if you're really keening for more storage. You can even fit a quad-core Intel Core i7 processor, if you so wish, along with ATI's Mobility Radeon HD 5850 graphics cards.
The HP Envy 14 Beats Edition is primarily aimed for the music fanatic out there. The notebook obviously features Beats Audio ,which was developed by HP and Beats by Dr. Dre. The laptop is also made of aluminum, much like the Envy 17, and it centers its color scheme around the Beats traditional red and black. It even has a red, back-lit keyboard. HP says that you'll get about 6 and a half hours out of the standard battery from this guy, but you can get an extended slim-fit battery which will offer you up 13 hours of life while unplugged.
As for the HP Pavilion dm3, it's a notebook that HP is proud to suggest keeps its cool no matter what you find yourself doing. It features innovative HP CoolSense Technology, which can automatically adjust cooling levels all based on your particular preferences at any given moment. The materials created in the laptop were all designed with this in mind, and strategically placed vents makes it so that the air continues to flow through the notebook in all the right places. In addition, there's HP's Thermal Assistant software, which will keep track of how the notebook is being used, and will shift between maximum cooling mode, or maximum performance mode, depending on what it deems necessary. The display on the dm3 is 13.3-inches, and it is HD. There's a proffered 7.5 hours on the standard battery, so that should be good enough to keep you going.
Press Release
HP Unveils Stylish New Consumer Notebook PCs Featuring Advanced 3-D and Cooling Technologies

PALO ALTO, Calif., Sept. 1, 2010 – HP today revealed new consumer notebook PCs that fuse advanced technologies with stylish designs to deliver a superior computing experience.

- For maximum sensory appeal, HP delivers the thrill of 3-D entertainment to the HP ENVY 17 3D – the first 17-inch notebook PC to support 1080p 3-D and Blu-ray – and superb audio to the HP ENVY 14 Beats™ Edition.

- The HP Pavilion dm3 notebook PC features an HP-developed intelligent cooling system to minimize heat and provide consumers with advanced comfort.

"With these new technology and design enhancements, we offer customers visually stunning entertainment and an overall better computing experience. These new HP notebooks and accessories deliver breakthrough technology, power and advanced styling to satisfy the most discerning user."

- Kevin Frost

Vice President and General Manager,

Consumer Notebooks,

Personal Systems Group, HP

HP ENVY 17 3D

With advanced 3-D technology as well as Beats Audio and an HP Triple Bass Reflex subwoofer, the HP ENVY 17 3D has the power and performance to deliver an unbelievable entertainment experience – just like in movie theaters. Offering the best stereoscopic 3-D visual experience without compromising 2-D content, the 17.3-inch HP 3D Ultra BrightView Display provides 1080p HD viewing and an ideal visual experience for 3-D Blu-ray content.

HP 3D Active Shutter Glasses provide a seamless viewing experience by wirelessly synchronizing each frame of the 3-D content between the display and the glasses, enabling a higher quality image . In addition, select models include sizzling 3-D action from the 2010 NBA All-Star Game and a 3-D movie trailer for the upcoming animated film "MEGAMIND" from DreamWorks Animation SKG Inc.

Crafted in precision-etched brushed aluminum, the ENVY 17 3D includes up to 2 TB of storage, powerful quad-core Intel® Core™ i7 processors and ATI Mobility Radeon™ HD 5850 discrete graphics.

HP ENVY 14 Beats Edition

HP ENVY 14 Beats Edition is designed and engineered to offer power and performance along with state-of-the-art audio technology and an overall superior PC experience. The Beats Edition notebook includes Beats Audio, a unique, high-performance technology developed by HP and Beats by Dr. Dre™ to provide the optimal sound experience – the way the artist intended it – when playing music or audio through headphones or external speakers.

In a sleek, precision-crafted aluminum design, it maintains the signature Beats Audio black and red design style and includes a red backlit keyboard and three custom Beats-themed wallpapers. Each HP ENVY 14 Beats Edition comes with Beats by Dr. Dre Solo™ Headphones from Monster.

Offering up to 6.5 hours of battery life with the standard battery, and up to 13 hours with the optional HP Slim Fit Extended-Life battery, the HP ENVY 14 Beats Edition includes powerful Intel Core processors and ATI Mobility Radeon HD 5650 graphics for demanding tasks.

HP Pavilion dm3

Thin and light, the HP Pavilion dm3 notebook PC is literally a cool notebook. Innovative HP CoolSense Technology combines advanced hardware and intelligent cooling software to pioneer a notebook that feels noticeably cooler and automatically adjusts cooling levels according to a customer's personal preferences.

Advanced materials plus strategically placed vents minimize heat and channel it away from the bottom of the PC for optimal comfort. In addition, HP Thermal Assistant software detects how the PC is being used and automatically shifts into either a maximum cooling mode or maximum performance mode based on the customer's choice.

It includes a 13.3-inch diagonal HD display, up to 7.5 hours of battery life and a stylish and durable metal finish with soft-touch surfaces in matte black.