HP Elite x3 "Lap Dock" is finally on pre-order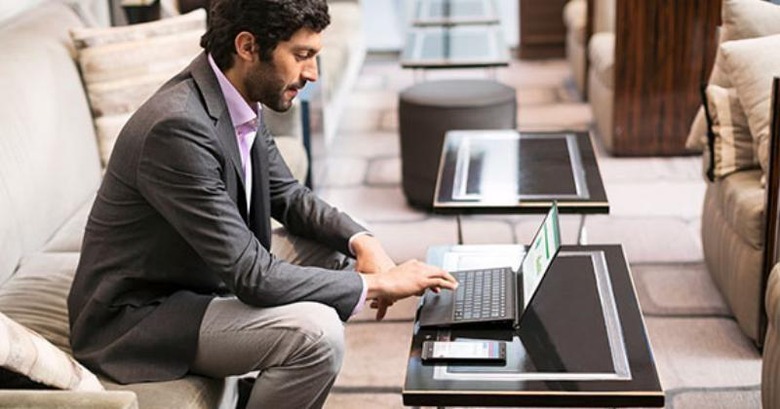 The HP Elite x3 is undoubtedly the highest end Windows 10 Mobile smartphone so far. But as interesting as the giant smartphone is by itself, it is actually made more interesting thanks to one of its accessories. Not the desktop dock, which Microsoft and even Acer have. No, that distinction belongs to the HP Lap Dock, practically an empty laptop or portable monitor, keyboard, and trackpad in one, which turns the Elite x3 into a true portable computer, also thanks to the soon to be better Continuum for Mobile.
Although not exactly original, the idea of a "thin laptop" has recently gained popularity again partly thanks to Microsoft's Continuum, specifically its "for Mobile" variant. But while its current, somewhat limited implementation does already turn a supported Windows 10 Mobile smartphone into a full computer, it still keeps users tethered to their desks. Something like the HP Lap Dock liberates such smartphones by allowing users to bring that monitor and keyboard along with them everywhere.
The HP Elite x3 Lap Dock is, admittedly, rather plain. The 12.5-inch "near borderless" screen is only Full HD, not matching the smartphone's own QHD resolution. There are no special connectivity options other than 3 USB-C ports, micro HDMI, and a headphone jack. That said, the Lap Dock does boast of Bang & Olufsen speakers as well as a 46.5 WHr battery that can charge the Elite x3 as well.
The HP Lap Dock has built-in Miracast so the Elite x3 can connect to it wirelessly in addition to the USB-C route. That opens up the possibility of the dock being used by devices other than the Elite x3, though that isn't explicitly supported. It does, however, cost quite a bit at $599, especially when you consider that the HP Elite x3, bundled with the Desk Dock, goes for $799.
Interesting at it might sound, buyers who don't yet have an Elite x3 or at least a Lap Dock might want to hold off until the next big Windows 10 Mobile update. In its current incarnation, Continuum is still a bit rough around the edges. The next update promises to polish those up, like adding a much needed split and floating window support.
SOURCE: HP Elite x3 Lap Dock at Microsoft Store