HP Elite x2 Review
HP has a new Elite tablet, and it is the most striking to date. The HP Elite x2 is a convertible system composed of a tablet with a hinged kickstand and a keyboard that attaches to the tablet using a magnetic connector. Anyone familiar with the Surface Pro, as one example, will be familiar with the design nature of the new Elite tablet. How does HP's offering hold up compared to competing models? Read our full review to find out!
Hardware
The HP Elite x2 is very beautiful to look at, and as far as convertible tablet devices are concerned, it's easy to use. The tablet portion is rectangular with fairly well-defined corners (unlike the older ElitePad, for example, which is pretty rounded). The back of the keyboard has a felt-like fabric cover, which helps keep it in place when on a smooth surface. The keys are, as expected, very shallowly placed but excellent for typing, though you'll definitely want the keyboard on a flat surface when you're using it. When used as a cover, the keyboard has a pleasant metropolitan design, nothing too flashy but immediately impressive when seen.

The keyboard snaps onto the tablet via a magnetic connector — it's very Surface-like in this regard. When attached, the keyboard can lie flat on the desk or it can be propped up slightly, putting it at an angle for more comfortable typing. The keyboard fixes onto the tablet very snugly but isn't difficult to remove; the ability to prop it up at an angle is a welcomed design feature for those who spend a lot of time typing. As well, the keyboard has backlit keys, another element that shines (literally and figuratively) in comparison to some competing tablet/keyboard combos.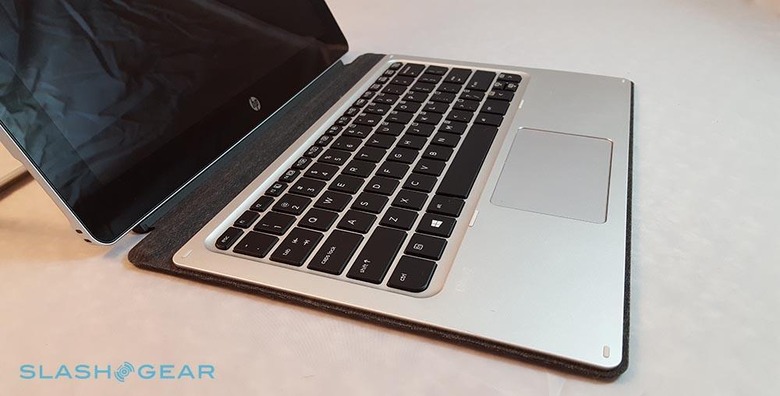 Around back we find a design that is very similar to the HP Spectre x2, though the hinge has visible fixed points on the edge of the tablet, and sits flush rather than in a groove. It's beautiful, yes, but also quite stable both opened and closed — there's no fear of accidentally knocking the tablet over, and certainly no rattling or loose feelings when the kickstand is closed.
The display is quite gorgeous, as well, measuring in at 12-inches with a Full HD 1920 x 1080 resolution. Under the hood lies a 512GB SSD. Overall, the tablet weighs 820 grams and is 8.05mm thick (sans the keyboard). It's great for watching videos and looking at photos, yes, but also wonderful for digital drawing and artwork — the Elite x2 is certainly a contender for those who need a drawing device, at least as far as the display is concerned.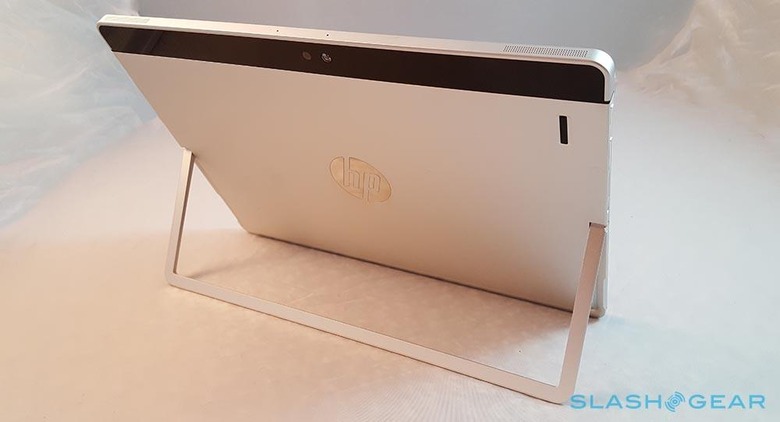 Stylus
HP's stylus is very attractive, featuring a button on the side and another button on the top. When setting up the tablet for the first time, users are prompted to press and hold the top button until a blue light appears. The stylus will connect to the tablet automatically a moment or two later. The stylus is shaped like a large ink pen and is comfortably weighted, making it especially comfortable to use for writing and sketching.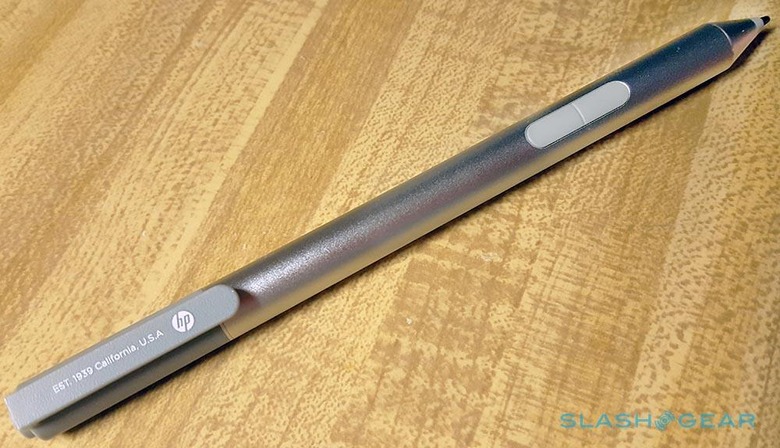 In use, the stylus performed adequately but not exceptionally. After hours of using it, I found the stylus consistently skips off and on during use, something that gets frustrating after a while. The issue was infrequent enough that it didn't ruin the experience — it was just an occasion annoyance that broke the flow and required some erasing. Those who use the stylus to sketch will find it far more bothersome than those who use it to take notes.
Things to Know
The HP Elite x2 tablet is aimed at business and enterprise users, and it packs a lot of features that cater to those users.
Security and Management
The Elite x2 features an optional integrated fingerprint reader for authenticating a login using one's fingerprint, adding an extra layer of security to the system. Those who upgrade from the travel keyboard to the "advanced backlit keyboard" will also get a smart card reader and NFC.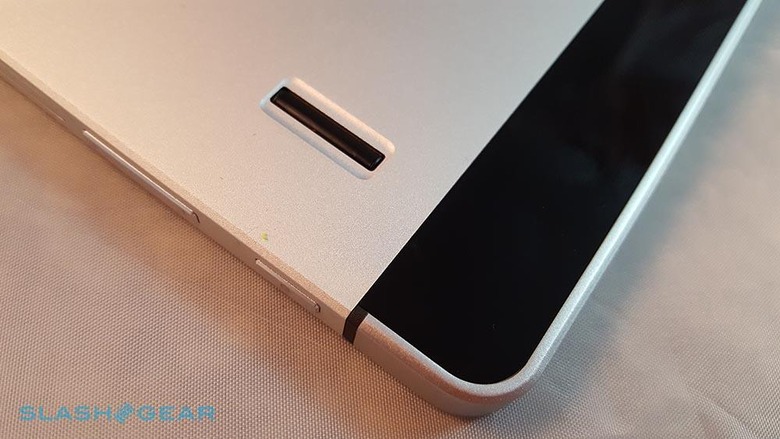 Other security features include the ability to remotely configure the BIOS, recover using HP BIOSphere, and there's HP Sure Start Technology. HP Client Security comes pre-installed for keeping important business data secure; there's also Intel vPro, and the option for a Trusted Platform Module and a self-encryption drive.
"IT-friendly Design"
HP boasts that its new Elite x2 has an "IT-friendly design" that, among other things, allows for scalable IT management; there's HP Touchpoint Manager for SMBs, and LANDESK for larger enterprises. Joining it is HP Client Management Solutions of deploying and maintaining the tablets, as well as dealing with any issues that arise.
Everything Else
There are several notable features that really round out the Elite x2 — they include: dual stereo speakers and audio by Bang & Olufsen, a badge of which is positioned on the upper left corner of the bezel. The laptop is charged using USB-C, the same port used by Apple's new MacBook and some other recently launched devices. The kickstand can be adjusted 150-degrees, and there's an optional dock to further increase its usefulness for business. The stylus and digitizer are both from Wacom, and there's WiGig. Durability has also been given a strong focus thanks to Gorilla Glass 4 and the tablet's military-grade ruggedness.
Performance & Battery
Our particular model features an Intel Core m5-6Y54 1.10GHz/1.51Ghz processor and 64-bit Windows 10 Pro; there's Cortana, of course, which comes in extra handy. Battery life is quite long at about 10 hours, give or take depending on what you're using the tablet for. That'll get most people through a full work day with a couple hours to spare, a necessity for those long days away from the desk.
Conclusion
If you like the style of HP's Spectre x2 but need something more durable and more suitable for work, the Elite x2 is exactly the right choice — it brings with it most of the Spectre's pleasing design aesthetics and combines them with a slew of business-friendly features. The tablet isn't just for business users, though, and would be just as suitable for power users who need security, durability, and want it in a beautiful, nearly artistic package.
Price starts at $899 USD.