HP adds EliteBook Revolve to its business tablet lineup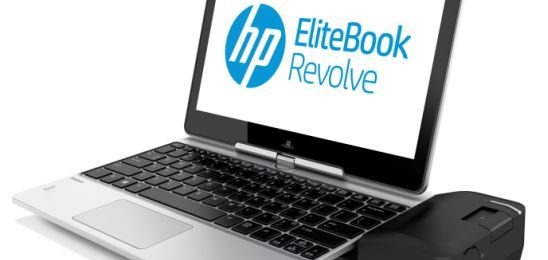 HP has announced the addition of the EliteBook Revolve, a tablet/laptop hybrid, to its business tablet offerings. Like many touch-enabled laptops appearing on the market, the EliteBook Revolve has a touchscreen that can be rotated and laid flat, effectively turning the notebook into a tablet. The device is slated for launch in March 2013 with an MSRP of $499.
The EliteBook Revolve offers an 11.6-inch HD display, and weighs in at a svelte 3lbs. Users can grab either a Windows 7 Pro or Windows 8 Pro version, although given the touchscreen, it's probably best used in conjunction with Windows 8. The Revolve is constructed to be durable, and includes Gorilla Glass 2 cornering and a chassis made from magnesium.
As far as hardware goes, the EliteBook Revolve runs on an Intel processor, and features USB 3.0 and DisplayPort, a 256GB SSD, and a camera that can record in up to 720p HD. There's a dual-microphone for high-quality audio, as well as DTS Studio Sound. There's NFC tossed into the mix, and Intel Rapid Start, which allows the notebook to conserve battery life.
Vice President and General Manager for HP's Commercial Managed IT Segment Dan Forlenza offered this statement. "Employees want computing devices that work the way they do – flexibly and able to adapt to any situation. HP is committed to ensuring its Elite portfolio of tablet solutions will provide customers the features their employees need for maximum productivity, with a design they'll be proud to carry everywhere they go, all without sacrificing the enterprise services and protection that take the headache away from IT."