How convenient - A luggage cart that turns into a laptop stand
Here's a novel idea, for those of you constantly traveling, why not make a luggage cart that also turns into a table for your laptop?
The Rolling Luggage Cart and Desk is just what it sounds like. It is a simple luggage cart that can accommodate a small amount of luggage. When you're stopped over at an airport or train station, just flip up the platform and set down your laptop and get to work.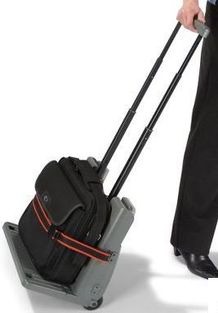 The simplistic laptop cart is small enough to fit in most overhead storage bins, so traveling with it will be a breeze. Unfortunately you'll have to cough up the initial $160 to buy one. Though I'm sure for people that travel a lot, that would be a small price to pay for a place to set their laptop.
Where work baggage cart [via SlashGear Japan]