HootSuite For BlackBerry Updated With New Social Features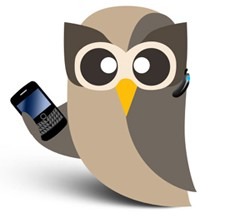 If you own a BlackBerry and are socially over-extended, then you'll be glad to hear that HootSuite for BlackBerry has just gotten updated with additional social features. HootSuite is a popular social media dashboard app that aggregates all your social network streams into one location that you can easily manage while on the go.
Instead of having to sign-in to each of the social platforms such as Twitter and Facebook to post tweets or status updates, you can use HootSuite to manage all your social media activities. With HootSuite, you can manage your LinkedIn, Foursquare, Facebook, and Twitter accounts all in one place.
New features for the updated HootSuite include:
- LinkedIn: you can now add or import your account to view news updates and profiles
- Foursquare: you can receive comments on check-ins from your friends
- Facebook: you can now add pages directly from your phone, view events, and search
- Twitter: You can favorite streams or individual messages; choose recently-replied to contacts and see friendship status; reply-all for tweets; create and manage lists
[via HootSuite]