Honda's restored 1961 Chevy truck is very cool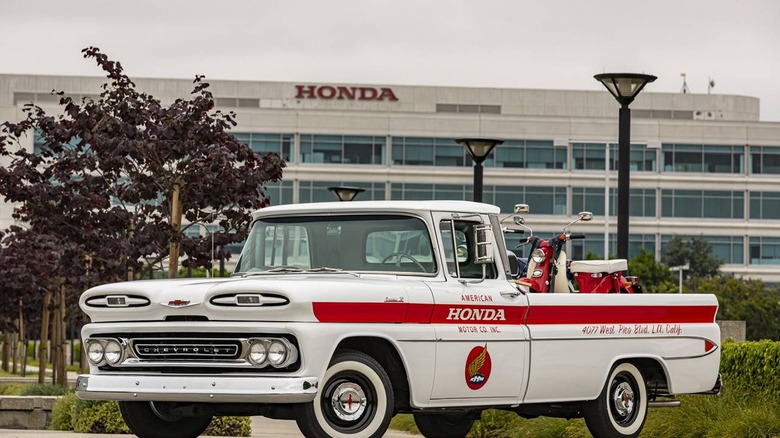 American Honda has announced that it has restored a Chevy truck. Why would Honda be restoring a 1961 Chevy Apache 10 truck? In the early '60s, American Honda used these trucks to deliver motorcycles to dealers. American Honda went into business in Southern California in 1959, and not long after, it purchased a fleet of Chevy trucks to delivery motorcycles to its dealers across southern California.
One of these fleet trucks is seen in an iconic American Honda photo from 1961 sitting in front of the original American Honda office at 4077 Pico Blvd in LA. To celebrate the 60th anniversary of American Honda; it has restored a 1961 Chevy Apache 10 truck to exactly match the one in that iconic photograph. The truck debuted at the June 11 60th anniversary celebration.
The restored truck has hand painted graphics and has Honda 50 and CB160 motorcycles from the era in the bed. The delivery truck has a half-ton chassis, 8-foot bed, 283 CI V8 engine making 160 horsepower and a 3-speed manual transmission.
The little scooter on the left side of the truck bed is a 1965 Honda 50 known as the Super Cub in other parts of the world and is credited with putting Honda on the map in the early days. The bike has a 49cc single cylinder engine and 3-speed semi-automatic transmission with centrifugal clutch.
The right side of the Chevy truck bed has a 1965 Honda CB160 and was completely restored. It has a tubular steel backbone, 161cc SOHC V-twin engine, 16.5hp, and a 4-speed manual transmission. The bike also has an electric starter. Honda may have had a humble start in the US in 1959, but by 1965, it was the best selling brand of motorcycle in the country.