Honda unveils updated 2013 Civic in LA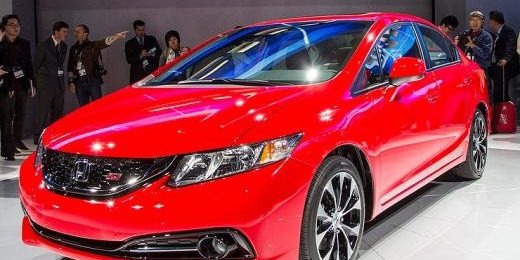 Love it or hate it, the Honda Civic has become one of the more popular cars for a new generation of automotive enthusiasts. Fans of the Honda Civic will want take a nice look at the 2013 Civic sedan that Honda unveiled at the 2012 Los Angeles Auto Show this week. The sedan gets a fresh style and other features to update the popular car.
The 2013 Civic sedan gets a new front bumper, a different hood, a black honeycomb mesh grill, different headlights, new chrome trim, and new wheels. Strangely, the Civic coupe doesn't get the exterior facelift that the sedan is subjected to. Both the cars get a revised interior upholstery with silver accents and new soft touch materials.
New Civic models also get some interesting standard features including a i-MID display, an exterior temperature gauge, a rearview camera, and an audio system featuring USB and Bluetooth connectivity. The windshield also gets thicker to help reduce vibration and noise making for a more comfortable ride.
Engine options for the updated Civic remain the same. Both the Civic coupe and sedan get an updated suspension with stiffer springs and revised power steering. Overall, the updates to the Civic sedan appear tasteful but sedate.
[via InAutoNews]