Honda Project 2&4 concept has the heart of a MotoGP racer and four wheels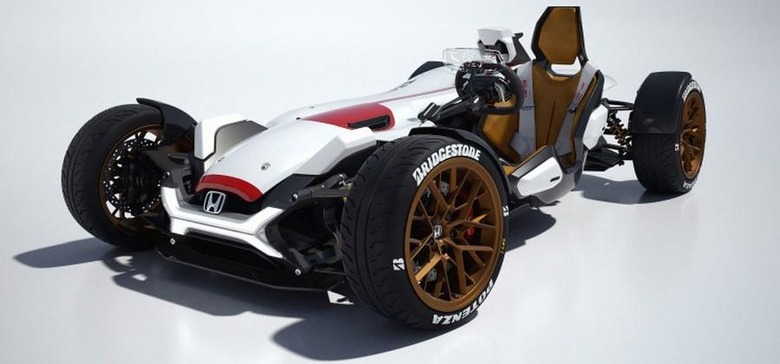 Honda is showing off one of the coolest concept cars it has unveiled in a long time and the car is called the Project 2&4 concept. It's about as close as you can get to a motorcycle with four wheels with a bit of F1 car thrown in the mix. The body of the car is suggestive of Honda F1 cars from the '60s, but its heart is pure MotoGP.
Power for the concept comes from a 1.0L V4 from the Honda RC213V MotoGP racing bike tuned for road use. That means 212hp and 87 lb-ft of torque with a redline of 14,000 rpm. The power goes to the road via a dual-clutch 6-speed transmission.
The design has the seat hanging off the side of the vehicle with the engine to the driver's right side. It looks no more unsafe than something along the lines of the Polaris Slingshot. This would make for one glorious track car.
The entire concept weighs in at 893 pounds meaning it should be a serious performer even though it has little torque compared to a normal car. The Project 2&4 Concept will be on display at the Frankfurt Motor Show. There is no word on if this concept will ever see production.
SOURCE: autoblog