Hometalk offers a social network for home improvement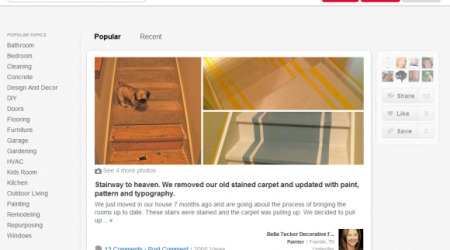 While services like Facebook and Twitter are the bread and butter of social networks, there are more specific communities out there. Hometalk is one such website, offering a social network for those interesting in DIY and home improvement. The site recently relaunched with a new design, boasting a user base of around 100,000 homeowners and professionals all brought together by the promise of tips, guides, and general DIY chitchat.
Once you arrive on the site, you'll see that it has a very clean and simple interface. If you start a post on Hometalk you'll be able to share pictures of your project and have people comment on them, a little bit like Pinterest but with a less cluttered layout. As you would expect, anything can be shared out to other networks like Facebook, Twitter, and StumbleUpon. Registered users can also Save and Like posts to view later on.
While most users are keen to show off decorations or the ongoing status of projects, there is an "Ask" option that will allow novices to ping others for the best advice. Topics range from just about anything found in the home, from bathrooms to bedrooms, plus more specific areas like windows or air conditioning units. It's a simple idea, but it's executed pretty well and clearly has an audience. If you're working on your own home improvement projects, Hometalk may be worth a look.