Holga case for iPhone brings special effects lenses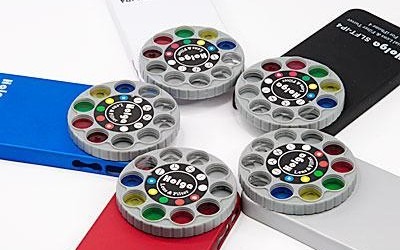 The Holga case brings some retro camera filters to your iPhone 4 or iPhone 4S. Instead of digital filters as you would get with the Instagram app, the Holga case tacks on a physical wheel of special effects lenses to the back of your iPhone.
The wheel looks like a rotary dial and features ten different filters, including a Dual Image Lens that produces two identical images like a 2-way split image filter, a Triple Image Lens that does the same but three ways, and a Quadruple Image Lens again four ways.
It also has a 60mm Macro Lens for taking photos roughly 60mm in distance from the lense, a Green Filter, a Red Filter, a Red Filter with a clear heart shape center, and a Yellow and a Blue filter each with a clear circular spot in the center.
The Holga iPhone Lens Filter Kit SLFT-IP4 is available now and retails for $29.99. The case it self comes in five different colors of black, white, silver, red, and blue. For examples of what each of the filters would look like, you can visit the Holga product page.
[via TUAW]