HM6 Space Pirate watch designed to look like Captain Future's ship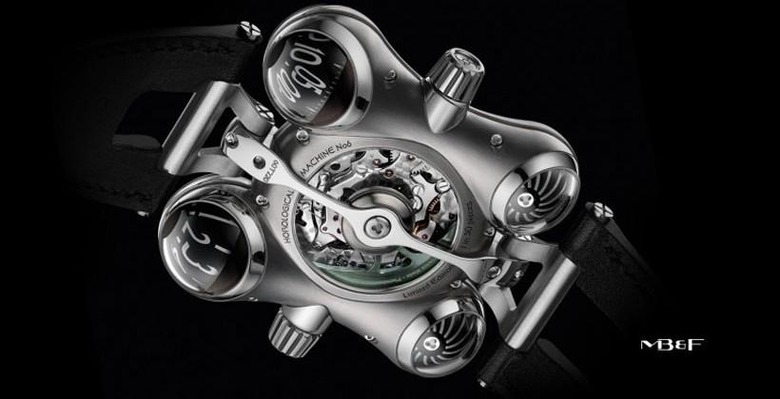 A watch designer named Maximilian Busse from MB&F has designed one of the coolest watches you will ever see. The watch doesn't have a round face as you might expect a watch to have. It has a design that is intended to look like a spaceship. The watch was designed to look like the ship that Captain Future flies around the cosmos in a cartoon from the 70s.
The watch is called the Horological Machine No. 6 (HM6) "Space Pirate" and it reminds me a bit of the flying cars from Blade Runner. The watch is made up of 475 components with the case having 80 components of its own.
The watch is a marvel of mechanical watch making. The spaceship the cartoon character flew around in was called the Comet and some of the design touches from that ship are found in the watch. HM6 was in development for three years by MB&F with David Candaux Horlogerie Creative. The watch has 68-jewel movement with a 60-second flying tourbillion behind a semi-spherical metal shield.
That retractable shield has a purpose, according to the maker it is designed to protect the regulator from UV light that can speed up oxidation of lubricating oils. The automatic winding mechanism uses an iridescent green platinum 950 battle-axe rotor. The watch also features twin aluminum turbines that moderate the winding speed of the system and minimize wear from air friction. The watch has a 72-hour power reserve if there isn't enough activity to keep it wound. Only 50 complete watches are being made and 100 HM6 movements were constructed. The watch will sell for $230,000.
SOURCE: Gizmag