Hitman GO's newest targets: Oculus Rift, Samsung Gear VR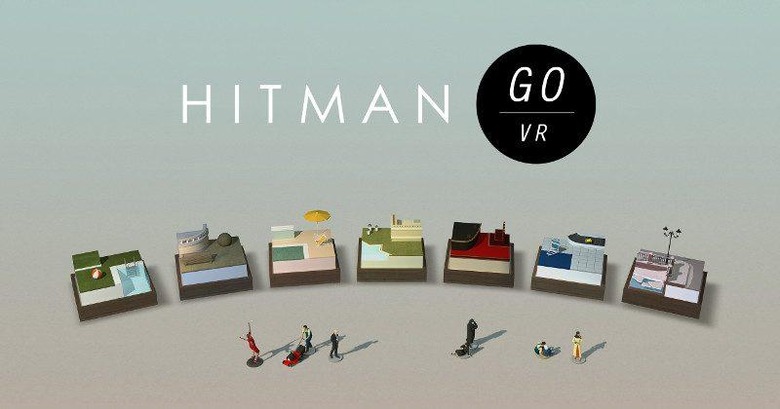 Hitman GO is an unusual game. Although it traces its roots back to Square Enix's popular stealth and assassination game, it has taken a slightly different turn on mobile and later on consoles as well. Now it is scouting new ground and will be taking down targets right in front of your eyes. Yes, Hitman GO has finally landed on VR, making it the publisher's first commercial VR game. Now available for the Oculus Rift and the Samsung Gear VR, practically both using Oculus' VR platform, Hitman GO: VR Edition puts a new spin on an already unique gameplay.
Hitman GO throws out the traditional crouching and hiding behind obstacles of the original Hitman series in exchange for an almost more peaceful and picturesque atmosphere. Hitman GO practically plays out more like a stealth board game than an action game, with a diorama aesthetic and turn-based gameplay. Despite the oddity, Hitman GO was regarded as such a hit on mobile that Square Enix expanded it to the PlayStation and later on to Steam.
Now it's making another expansion, and one that you probably wouldn't immediately expected. Virtual reality is often associated with first-person experiences but, as a board game, that isn't exactly applicable to Hitman GO. What the VR Edition offers instead is a more immersive view into the game, in contrast to the detached perspective you have on a mobile screen or monitor. Most of the game's mechanics remain the same and you can rotate or zoom into the sets. Apparently, you can't tilt the board to get a more advantageous view. It would probably be nice if you could virtually walk around it and observe it like a real-world object.
Hitman GO: VR Edition is now available from Oculus' Store front on both VR headsets. The price, however, is rather steep, $9.99 for the Oculus Rift and $7.99 for the Gear VR, definitely a lot more than their other editions.