Hitachi Announces 4.5-Inch Display That May Rival Apple's Retina Display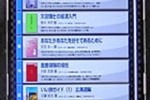 Hitachi has developed a new high-definition LCD display for smartphones that has a pixel density slightly higher than that of Apple's much touted Retina Display. The screen's resolution will be so close to what is perceptible to the human eye that you will not be able to distinguish individual pixels.
The 4.5-inch IPS display will boast a 720 x 1280 (16:9) display that can fit 329 pixels per inch and a contrast ratio 0f 1,100:1. Compare that to Apple's much touted "Retina Display" which can do 326 ppi, 800:1 contrast ratio, and a 960x640 resolution on a smaller 3.5 inch screen. Hitachi's display is going to look very good.
Mass production on the new displays won't begin until October of this year so don't expect to get your hands on these anytime soon. Most likely you will find them by early 2012 at CES or the MWC. The display seems like it will be amazing, so it will be interesting to see how it faces off against Apple's Retina Display and Samsung's Super AMOLED screens.
[Via IntoMobile]