Hisense X1 hands-on with a 6.8-inch smartphone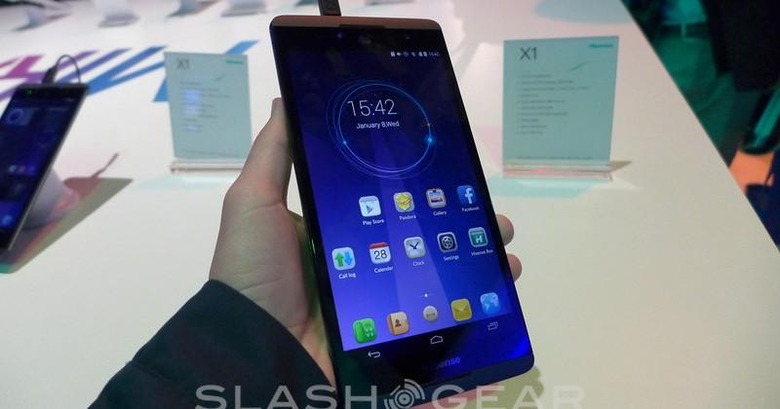 It seems to be a known bit that smartphones are growing in size. Then there are the phablets, and at some point these larger devices should simply be called a tablet. Generally, anything from 7-inches and above falls in the tablet space with the phablets falling in the middle of tablets and smartphones. But that being said, Hisense has gone against that trend and unveiled a 6.8-inch smartphone.
Names aside though, the Hisense device is the X1 and that 6.8-inch display happens to be sporting a resolution of 1920 x 1080. The remaining specs continue to be top notch and include a Qualcomm Snapdragon 800 processor with 2GB of RAM. The storage seems to be a bit on the lower side with 16GB, and unfortunately the handset is being launched with Android 4.3 Jelly Bean as opposed to Kit Kat.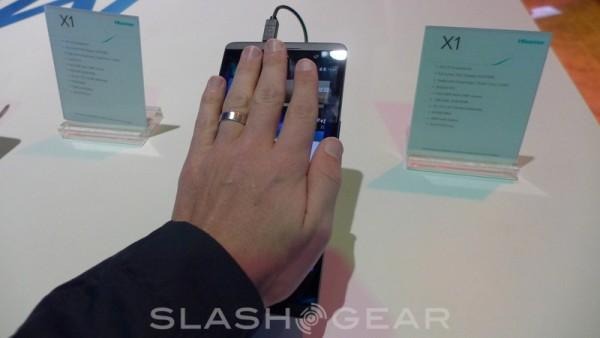 Rounding out the specs is a rather massive 3900 mAh battery, 5 megapixel front-facing camera and 13 megapixel rear-facing camera. To give some idea of the size of the phone — we included the image showing a hand sitting on top of the display. To be a bit more specific here, the X1 measures in a 152.8 x 79 x 9.7mm. This is also a 4G LTE device, but for now the handset is running on China Mobile. There was some mention of Hisense releasing this for the US market, but so far a firm timeline and pricing remains a mystery.
Specs aside, despite the phone being rather large in size, it feels really solid. Keeping in mind we had just a few minutes to play, the phone seems to perform rather well. Of course, with the Snapdragon 800 processor and 2GB of RAM that likely comes with a bit less in terms of surprise.
We'll have plenty more CES 2014 coverage coming through the week, but for now, make sure to hit the full gallery sitting below.