Hisense will soon run Sharp's TV business in America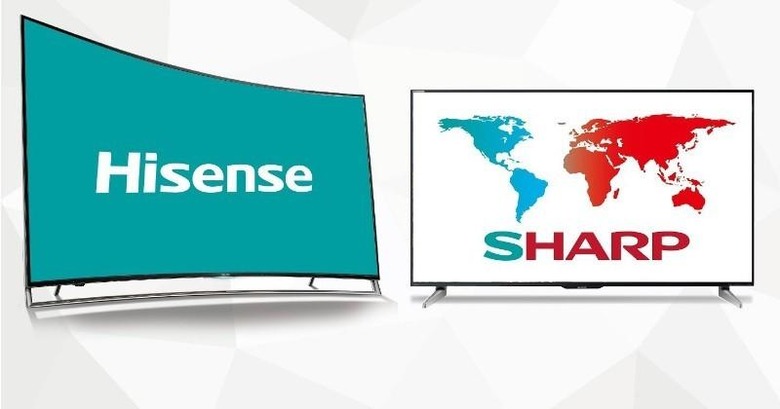 It isn't just smartphones anymore. Hisense, a popular Chinese appliance and white goods manufacturer, is joining the big leagues when it comes to making and selling high-end TVs in America. But it will do so not through its own power but through buying Sharp's manufacturing plant in Mexico and using its TV brand in both North and South America. With this, Hisense plans to rub shoulders with the likes of Samsung, LG, Sony,and Panasonic, in what is just the latest wave of Chinese brands trying to vie for a piece of the global market.
Sharp is an old and established name in the consumer electronics market, so it's a bit surprising that it has chosen to bow out of the TV race at least in the US. Then again, when you're up against giants like Samsung or even its compatriot Sony, it's hard to measure up.
Hisense, on the other hand, has been making inroads in the TV department but back home in China. It is equally an established name when it comes to flat screen TVs. But with the likes of TCL and Haier, the Chinese market is also getting too crowded. Hisense has tried to stand out from the rest of the crowd with new partnerships, like one with Roku, and with an increasingly visible presence in international tradeshows like CES.
This acquisition, which will amount to $23.7 million, is just the latest and the biggest step. The purchase will see a switch of hands from Japanese to Chinese owners in the Mexico TV plant as well as the use of the "Sharp" name on Hisense-made products. This could result in a new generation of Sharp-branded TV sets with lower price tags more typical of Hisense. Whether quality, or the perception of quality, will be affected will remain to be seen.
Of course the purchase limits Hisense' use of the brand to TV in North and South America. Sharp will naturally retain the brand for any other product sold in the region. Sharp will most likely also continue to make and sell TVs in other markets, and the discrepancy between Sharp TV in the US versus the rest of the world might be interesting to note in the future.
SOURCE: Hisense
VIA: CNET