Hisense taps Roku TV for its flagship 4K televisions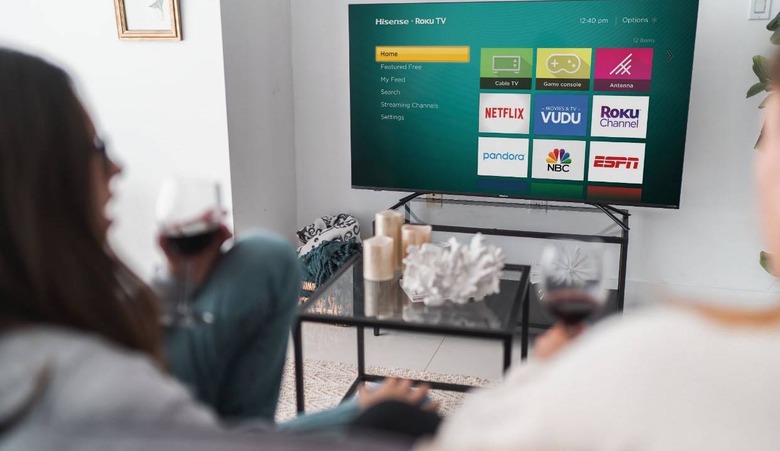 The 4K TV market is a packed one at the moment, but Hisense thinks it may have an ace in the hole: its proprietary ULED technology combined with Roku TV. Today, the company announced the R8F 4K Roku TV, which comes in two different display sizes and makes some big promises for the cost. Of course, Roku TV is one of the more popular smart TV platforms around, so Hisense is hoping that brings some of the Roku faithful into the fold.
Hisense is hoping that its ULED technology turns some heads as well. Hisense promises real-time image improvement using an ULED panel over an OLED one, with the company saying it'll provide "a better picture, higher contrast, smoother motion and better visual processing." Going hand-in-hand with that is the R8F's "High-View Engine," which will automatically adjust audio and video settings depending on the content being displayed.
The TV also supports Dolby Atmos sound and Dolby Vision HDR, making the R8F the company's new flagship TV. Then, of course, we've got Roku TV support built into these TVs, which has the trappings we'd expect from the OS. Features include shortcuts to free and paid content and Roku Zones, which allow you to find curated content sorted by genre or topic.
Roku TV also has a dedicated 4K Spotlight Channel, so if nothing else, you can use the OS to find 4K content for your flashy new TV. The R8F supports Roku Voice either through the Roku Voice Remote or the Roku app. It can also play nice with Google Assistant and Amazon Alexa too, so if you're already knee-deep in one of those ecosystems, you can integrate the R8F with it.
We'll see if Hisense's combination of Roku TV and ULED can turn these TVs into a seller soon enough, as they'll be launching mid-December. The 55-inch R8F will run $499.99 while the 65-inch version will cost $699.99. Both sizes will be available at Amazon and Walmart.com, so keep an eye out for them.