Hisense H4 Series Roku TV eyes-on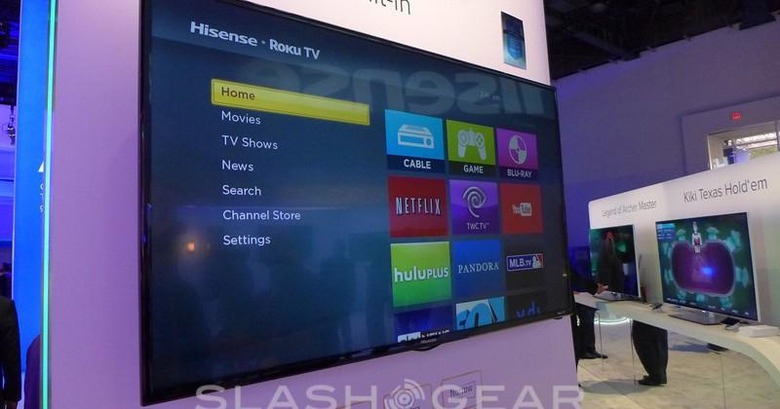 The Roku TV announcement may have come a few days before CES, however the announced models were out sitting on the show floor. There will be a few manufactures producing a Roku TV, one of which is Hisense. Specifically, the Hisense H4 Series Roku TV that will include a 32, 39, 40, 48, 50 and 55-inch model.
Hisense will have these available in the US and Canada with pricing to be "announced later this year." More important at the moment — the television will have full access to the Roku Channel Store which means downloadable apps such as Netflix, Hulu Plus and many others. To that point, it was said the channel store offers more than 1,200 options.
The flagship 55-inch model will be Full HD with a native 120Hz refresh rate. Hisense also shared how the 55-inch model will have a "smooth motion enhancement of UltraSMR 240 for the ultimate surfing experience." Going down the remaining models in the lineup and we see the following; 32-inch and 39-inch Standard HD with a 60Hz refresh rate, 40, 48 and 50-inch Full HD and with a refresh rate of 60Hz.
As far as the looks of the television, these are good looking in person, though they are far from the slimmest models available. The bezel is a bit on the glossy side, but thankfully also on the thinner side. Tucked in on one side are some ports with access to a power button and the various inputs on the opposite side. These are both hidden behind the display and only visible from the side.
The Hisense H4 Series Roku TV appears to have some promise, however we are going to have to hold back some judgement until we learn the pricing.