Hexbot modular desktop robot arm unleashes creativity, learning for all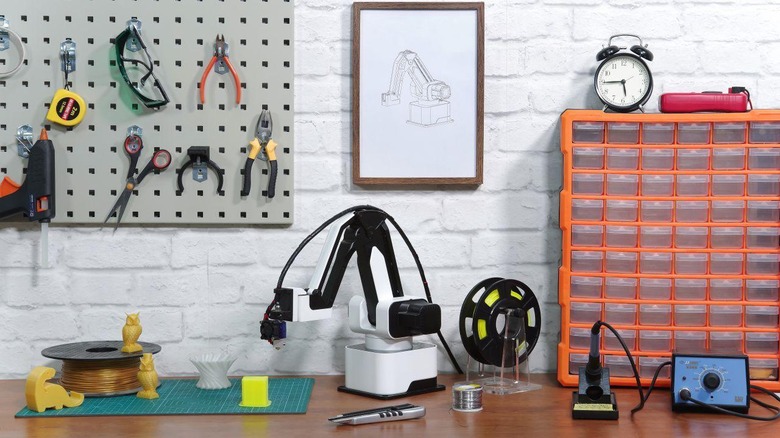 Sponsored Feature
A few recent technologies have drastically changed the way we make things and learn. 3D printing has opened the floodgates for makers and tinkerers to create all kinds of things previously possible only with an assembly line. Robotics has also given the younger generation a more exciting introduction to science and technology. But in both aspects, quality experiences and results are often out of reach, both in terms of price and availability. Enter Hexbot, the world's most versatile all-in-one desktop arm. Whether you're 3D printing a unicorn, engraving your own phone case, or simply stacking cups, Hexbot is the artistic robotic arm for anyone and everyone.
Truth be told, robotic arms that do those things are nothing new. They are a niche product that combines robotics and 3D printing or laser engraving in an often expensive and inaccessible way. No wonder they're niche. Just as how 3D printing democratized production and manufacturing, Hexbot is attempting to democratize robot arms as well. But accessibility isn't just about making it affordable. It's also about making it usable for whatever use case you might have.
That's where Hexbot's modularity comes in. Need to 3D print a fantastic new structure? Switch out the head for 3D printing. Just want to draw on paper? You can do that too. Play the piano? Yep! All you need is one click to swap out modules, no messy screws. Even better, Hexbot has accessories that give it computer vision and limited mobility via rails that expand its functionality even further.
With that much functionality, you might think Hexbot is some noisy, rough machine that's too complicated to operate. Wrong again on all three counts. At a reduced 37dB, the robot will let you sleep right next to it while it spits out your next masterpiece. The arm is also precise down to 0.05 mm, which makes a world of difference compared to its rivals' 0.20 mm precision.
And just as important, Hexbot is easy to use with it's accompanying software. Scared of complicated programming or messy 3D software? The robot also understands the Blockly programming language that even kids will have fun using. There's also a touch screen remote control that not only lets you check the status of the robot, it also lets you manually control it. You can even record movements in case you're really allergic to even the simplest of codes.
Like many almost impossible dreams these days, Hexbot is being born from Kickstarter's crowdfunding platform. The amount of support it has already garnered, with more than a month left to spare, proves how much this product is touching hearts and inspiring minds. And why wouldn't it, especially when the Basic Kit goes for only $349. Even the $469 3D Printing Pro Kit, which includes the touch screen remote and the 3D printing module, is significantly cheaper than other robotic arms in the same market. And being modular, you can even just pick and choose and only pay for the modules you want and need.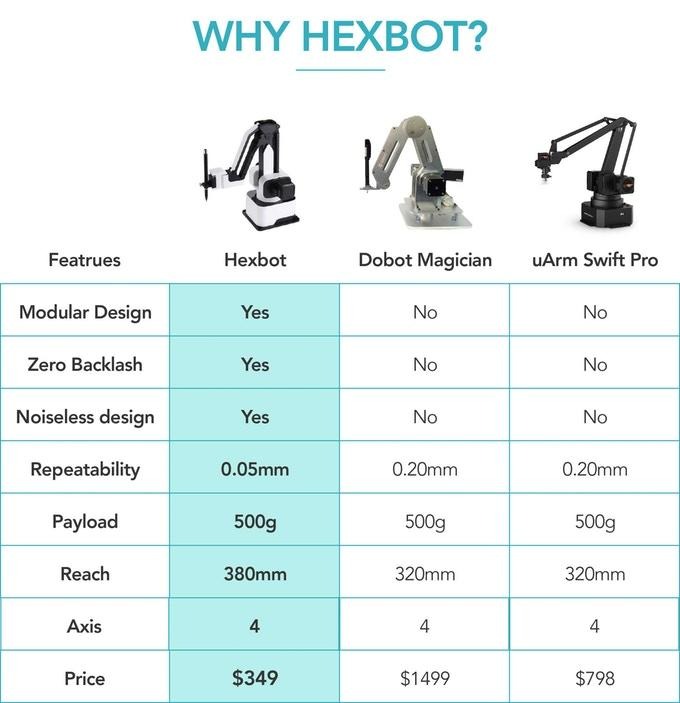 We are heading towards a world where being creative and making things are no longer the exclusive domain of those who can afford expensive tools. With Hexbot, you no longer have to choose between burning a hole through your wallet or settling for a toy. All you need to do is snap on a module and let your creativity fly.