Here's why Epic disabled the Fortnite BRUTE mech suit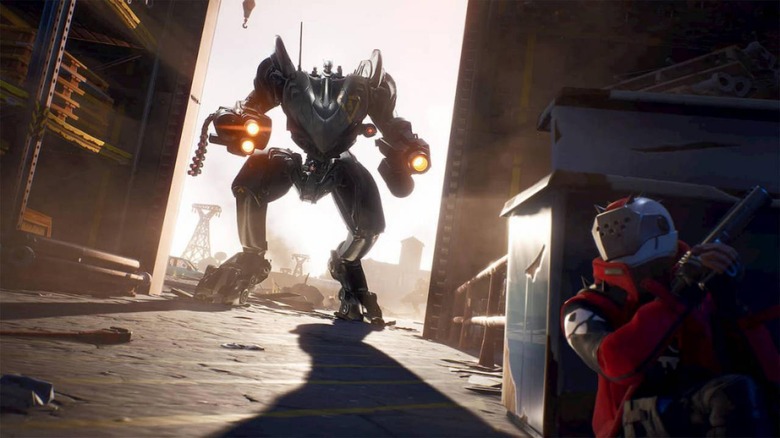 Late on Friday, Epic Games suddenly disabled its controversial BRUTE mech suit, returning its battle royale game to the version players prefer and have been demanding since the vehicle arrived with Season X. The removal is only temporary as noted by the alert in the game's lobby, but has persisted for more than 14 hours by this point with no return in sight. The company vaguely referred to the removal as being due to an issue with the suit's air stomp ability.
Players have largely praised the suit's removal — in fact, the post on Reddit in which Epic said it was temporarily disabling BRUTE has received more than a dozen gold rewards, five platinum badges, and three dozen silver awards, underscoring the Fortnite community's hatred for the vehicle. Similar praise can be seen in response to the company's tweet:
The B.R.U.T.E. has been temporarily disabled from all playlists while we resolve an issue caused by its air stomp attack.

We're working to resolve this issue and will provide an update when we have more information.

— Fortnite (@FortniteGame) August 30, 2019
Epic didn't go into detail about why it removed the mech suit, stating only that it was due to an issue with the vehicle's air stomp mechanic. The reason is likely due to a video recently published by popular streamer SypherPK in which he details a bug that enables the suit to cause serious damage to players even if it strikes the ground many meters away from them:
Sypher PK Finds Game Breaking Mech Bug from r/FortNiteBR
As can be seen in the video above, a player in a BRUTE suit can use its air stomp feature to slam the ground and cause player damage. One would assume the damage would only apply in cases where the suit manages to actually hit the opponent, but a bug allows it to cause substantial damage to any player within the vicinity of the vehicle even if they're on the other side of a structure.
This is a fairly serious bug, giving the suit even more destructive power and fueling the ire of players who are frustrated by their inability to adequately defend against the machine. It's unclear how long it will take Epic to fix the problem, but the company indicates that it will eventually release BRUTE back into the game.