Here is PayPal's answer to your digital wallet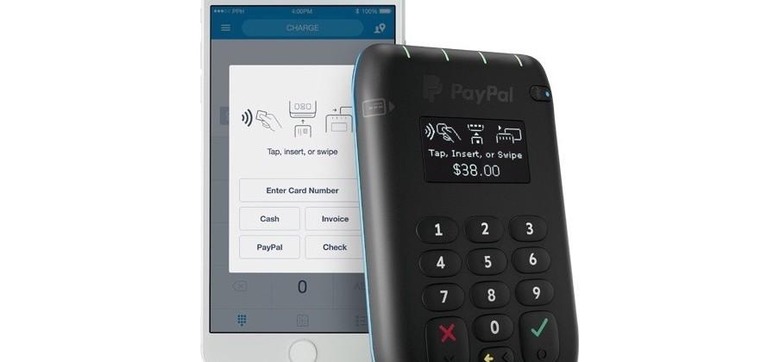 Having been available overseas for some time now, PayPal is finally bringing its advanced payment card reader, "Here," to the US. The device is aimed at making point-of-sale terminals able to accept the new EMV cards that rolling out across the country. EMV cards offer more security due to storing data on an embedded chip instead of a magnetic stripe. PayPal's Here will be able to accept not only EMV and magnetic stripe cards, but it also support NFC payments including Apple Pay, Android Pay, and Samsung Pay.
The US has been slow, compared to countries in Europe, to adopt the EMV technology, but now the change is coming full-force. In order to encourage merchants and business to upgrade their register hardware to accept EMV, starting on October 1st if they refuse to accept chip-based payments, instead swiping the cards the old-fashioned way, they will be held responsible for any fraudulent transactions made with the cards.
This where PayPal is jumping in, hoping to take advantage of the widespread need for new equipment. As PayPal puts it, the inclusion of NFC-capable payments is to address the fact that consumers are getting more and more used to paying in a variety of ways.
When using Here, a EMV card is inserted at the bottom, while a traditional magnetic stripe card is swiped across the top. Cards that have NFC can just be tapped on the screen, and that extends to mobile devices featuring Apple Pay, Android Pay, or Samsung Pay.
Merchants can order the PayPal Here starting September 30th. It's priced at $149, however business that process $3,000 or more in payments within the first three months will qualify for a $100 rebate. Merchants can use the PayPal Here app on their own smartphones, typing in the total sale price or choosing from pre-entered items that they offer, hitting the "charge" button, followed by the payment instructions displayed on the reader's screen for purchasers.
SOURCE PayPal
VIA TechCrunch