Here are 6 runs from AGDQ 2017 you need to watch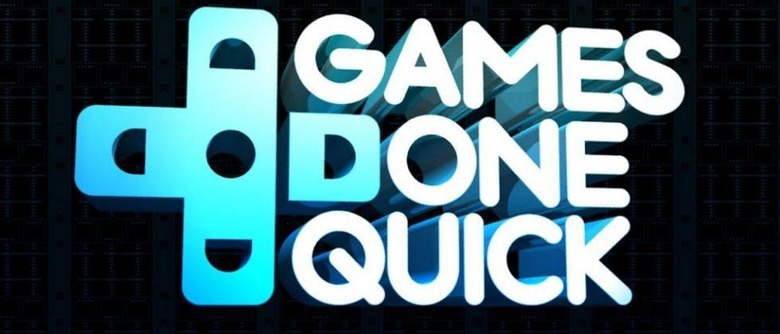 Awesome Games Done Quick 2017 wrapped up over the weekend, but not before smashing donation records set by previous marathons. In all, AGDQ 2017 raised over $2.2 million for the Prevent Cancer Foundation, surpassing the previous record of $1.5 million set during AGDQ 2015. What's even more impressive is that more than $1 million was raised during a single day at AGDQ 2017, with donations flooding in during the last day of the marathon.
There were nearly 200 runs performed during the marathon, but if you missed some or all of AGDQ 2017 and want to know where you should dive in, never fear. We've compiled a list of six supremely awesome runs from AGDQ 2017, and they offer a good jumping off point for anyone looking to get started.
1. Super Mario Brothers: The Lost Levels in 23:52
Super Mario Bros: The Lost Levels is a difficult game on its own, but this is a "two player, one controller," run, making things all the more difficult. Runners GameJ06 – more commonly known as Big Jon – and AndrewG each handle one half of the controller and manage to beat the game in less than 25 minutes, providing hilarious commentary the whole time. There are a few bumps along the way, but that just serves to make the run even more memorable.
2. The Legend of Zelda: The Wind Waker HD in 3:49:19
Most of the time, running a game from the Zelda series can be a pretty monumental task. The Wind Waker HD is no different, with this run by Linkus7 clocking in at just under four hours. Linkus7 does a good job of walking us through his speedrunning strategy as he plays, and the commentary from the folks on the couch – in this case Fuzzyness and SpikeVegeta – is both funny and informative as well. An excellent run if you have some time on your hands.
3. Super Smash Bros. Melee (All Events) in 37:42
It's not often you hear "Super Smash Bros." and "speed run" mentioned in the same breath, which makes this All Events run from Super Smash Bros. Melee all the more special. Runner Fuzzyness takes us through all 51 events in just over a half hour, providing excellent commentary and giving us a window into his strategy as he plays. Equally impressive and entertaining, this is worth a watch just because we don't often see Super Smash Bros. outside of a tournament setting.
4. Mega Man X 100% race
Races are a big part of any Games Done Quick marathon, and this year, one of the most exciting was the Mega Man X 100% race. Run by Walrus_Prime, Domalix, CrystalUnclear, and CalebHart42, this four-player race has the runners completing everything in the game – beating every boss, collecting every item, and finding all of the secrets. It's a nail biter up until the very end, too, which makes it even better.
5. Batman Forever in 43:09
Part of the Awful Games Block that features at every Games Done Quick event, you may not think that a bad SNES tie-in game for a bad movie would be all that enjoyable to watch. Runners Klaige and PJ make this Batman Forever run a lot of fun, however, as they continually ridicule the game for being as horrible as it is. With strange fighting mechanics and seemingly horrible controls, it's a wonder they finish it at all.
6. Undertale in 1:28:27
Undertale was the final run of the show, and though there were some missteps during AGDQ 2017, this run puts a perfect cap on the marathon. Shortly before Undertale begins, total donations hit the $2 million milestone, getting the crowd hyped for a run that's a joy to watch, thanks in large part to its runner, TGH. It made for an excellent ending to the marathon, and one that will be hard to top in future GDQs.
Wrap-Up
Obviously, these six runs are just the tip of the iceberg, and if you'd like to watch more, the entire event can be found arranged in a neat little playlist over on GDQ's YouTube page. Games Done Quick will be back later this year with SGDQ 2017, which will kick off on July 2 in Minneapolis, Minnesota. Which AGDQ 2017 runs were your favorite? Let us know in the comments section!