Hercules XPS Ultra Slim speakers coming soon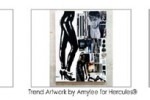 Many computer users out there would prefer to listen to music on their PCs or watch movies using a good set of external speakers rather than headphones. The problem with many sets of computer speakers is that they are too large and bulky for small spaces. Hercules has announced a new XPS Slim speaker line that should fit anywhere.
The new line of speakers includes the XPS 2.0 40 Slim and the XPS 2.1 40 Slim speakers. The two speaker sets use the same satellites that stand 9.5-inches tall and have a black lacquer finish with aluminum trim. The XPS 2.0 40 Slim speakers will sell for $34.99 and have 5 watts RMS power with 10 watts peak power.
The XPS 2.1 40 Slim speakers have the same satellites and add a subwoofer. In this set, the sub alone has 16 watts of power, the satellites have 8 watts each, and the system will sell for $59.99. Both sets of speakers will be offered in November.