Hercules unveils eCafe EC-1000W netbook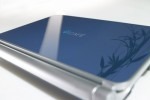 Hercules is a company more known for video game controllers and other peripherals than anything else. With the netbook category of the PC market booming lots of companies not traditionally associated with full computer systems are entering into the market. Hercules is the latest to jump on the netbook bandwagon.
Today Hercules announced its new eCafe EC-1000W netbook, and as much as I am surprised to say it, the machine offers some features that you don't see often on netbooks. Namely, Hercules has crammed 250GB of storage into the machine. The system will also ship with Windows 7 starter edition in October.
Other features of the netbook include a 10.1-inch LCD with a resolution of 1024 x 600 and it runs an Intel Atom N270 processor. Along with the 250GB HDD, Hercules also offers 50GB of online storage. Wireless networking is integrated with 802.11n tech and a 6-cell 4400 mAh battery pack powers the entire works. One of the more impressive features is the price of the machine at $399; it's a good value for what you are getting.