Hennessey will cram up to 1,200 horsepower into the C8 Corvette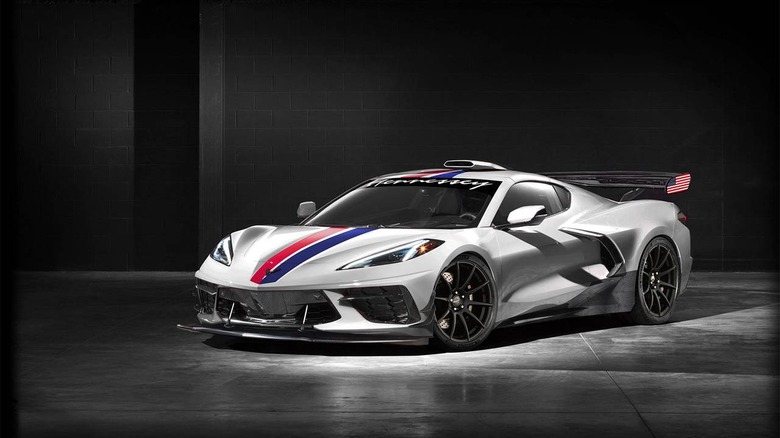 The mid-engine Corvette C8 is an impressive machine with high-performance, even in the base model of the car. The gang over at Hennessey Performance isn't known for leaving already fast cars stock. The company certainly won't leave the Corvette C8 stock, and it is teasing some of its cool upgrades for the car already.Hennessey will offer up to 1,200 hp for the C8 Corvette with its HPE1200 Twin-turbo C8 Corvette. That package will include a specially designed twin-turbo system that has a specially built LT2 V8 engine with upgraded internals, including forged aluminum pistons and forged steel connecting rods.
The hopped-up C8 will use an upgraded and fortified factory dual-clutch transmission. The company also offers its signature CarbonAero carbon fiber body upgrades with a front splitter, an airdam, and a rear carbon fiber wing. A full Brembo brake system upgrade will be offered.
Other options will include an adjustable Penske suspension along with wheel and tire upgrades. Hennessey says that it has had hundreds of inquires form C8 buyers wanting to know what will be offered for the new Corvette. In addition to the 1200hp twin-turbo kit, Hennessey will also offer a stainless steel exhaust that ups power slightly and a supercharger system for up to 700hp.
The company will begin to offer that system once computer tuning is available for the new C8 engine platform. Hennessey notes that it has upgraded over 500 C7 Corvettes since 2013 and that it will upgrade lots of C8 Vettes in the future when the car launches. The company has a C8 questionnaire that users can fill out to fill the company in on what sort of changes they want for their cars.