Hello Mobio Grip and Go hands-on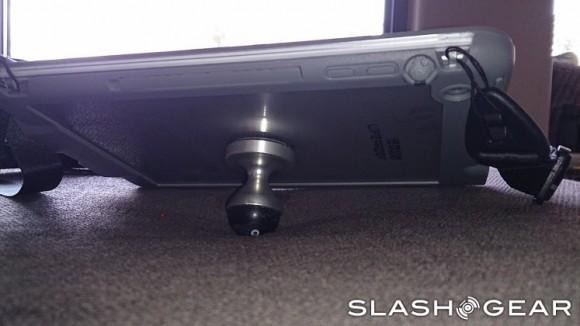 Tablets and smartphones have multiple uses: as gaming devices, navigational tools, digital book readers, note-taking slates, and more. As such, the way they're handled varies with need – while holding them by the bevel may be okay for one scenario, another may require a solid grip on the back. While there are different stands and docks available for a variety of needs, swapping between them is inconvenient at best. That is where Mobio's Grip and Go come in.
First there's the Mobio Grip, which is for your tablets – iPad, Android slates, Kindle, etc. – serving as both a grip for when you're holding the device and as a stand when you need to prop it up on the table. The device certainly lives up to Mobio's claims of being ergonomic, with it feeling quite natural to grasp in your hand or slide between your fingers.
The Grip is made from carbon-steel and aluminum, and fixes to the back of the slate. There weren't any issues with reliability, and it holds fast to the magnets used to fix it in place. The magnet itself poses no threat to your hardware, and is attached with a 3M adhesive piece. While it can be removed, be sure to put it on a case if you use one rather than the back of your device.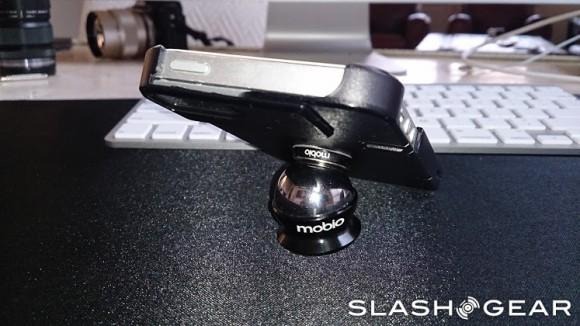 And then for your smaller devices, there's the Hello Mobio Go, which is aimed for travelers as an easy way to mount a smartphone in-car for hands-free use. The small swivel, however, also functions as a small stand if you want to use it indoors. As with the Grip, the Go works by attaching to its companion magnetic mount.
Mobio says it designed the Go to be a solution to the larger contraptions that offer the same feature. While it may be smaller than some of the offerings out there, it is still really thick, and that makes it uncomfortable, particularly for those who prefer to keep their phone in their pocket. One area the Go really impressed us, however, was its swivel feature, allowing you to turn it easily for a better look at the screen.
Both the Hello Mobio Grip and the Go are priced at $34.95.