Hello Kitty's Pac-Man invasion begins today on iPhone and Android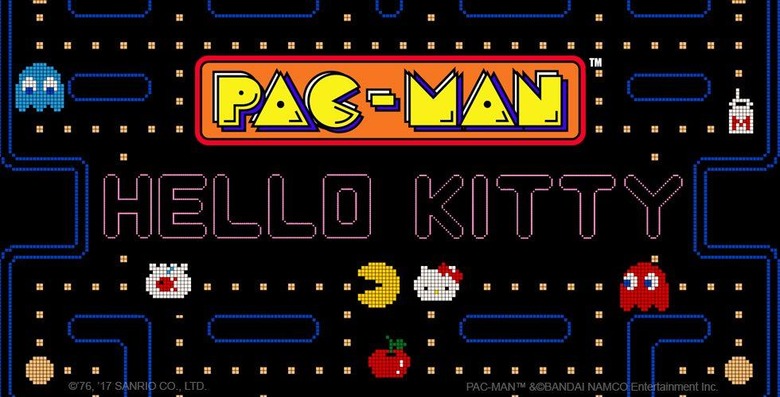 Hello Kitty and Pac-Man have joined forces, it would seem. Today Bandai Namco announced a new crossover between Pac-Man – one its most well-known video game series – and Hello Kitty, a global brand that most (if not all) of you have likely encountered at one point or another. This new crossover is being revealed just in time for San Diego Comic-Con, which officially kicks off tomorrow and runs through Sunday, July 23.
If you're heading out to Comic-Con tomorrow, you can stop by the BAIT booth (#5146) to check out the Hello Kitty ♥ Pac-Man merchandise that's have on display. The items up for grabs will include t-shirts, hats, pins, tote bags, and socks. The main attraction, however, will probably be the figure set that "blends the classic arcade pixelated Pac-Man look with the supercute iconography of Hello Kitty."
BAIT will also be on hand at New York City Comic-Con in October with largely the same line up of merchandise. It's there that it will debut new designs in the Hello Kitty ♥ Pac-Man figure set, though at this point, neither Bandai Namco nor Hello Kitty owner Sanrio have shared any images of these figure sets.
In any case, for the rest of us, there's also a Hello Kitty ♥ Pac-Man crossover game going live on the Google Play Store and iOS App Store today. This new title pulls Hello Kitty into the world of Pac-Man, with a number of Hello Kitty-inspired levels and power ups. You can have a look at the game in action with the trailer below.
This Hello Kitty makeover is actually an update to Bandai Namco's main Pac-Man app, and it's live right now on both the Google Play Store [download] and the App Store [download]. There's no word on how long Hello Kitty will be hanging out in Pac-Land, but Bandai Namco assures that this will be a limited-time engagement. In other words, if you're a Hello Kitty fanatic, you'll want to spend some time with the Android and iOS versions of Pac-Man sooner rather than later.