Helix portable battery has 11,000 mAh of power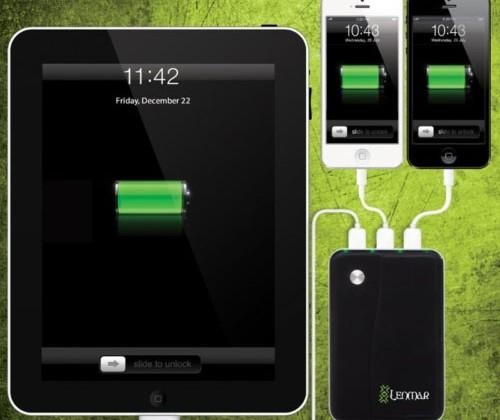 If you travel with a lot of gadgets, you know that can be a challenge to keep them powered up. If you're roaming using something like an iPhone and you make a bunch of calls or get bored and play a game while waiting for your plane to land, your phone can be almost dead before you know it. If you don't have access to an outlet or some sort portable battery you could end up out of touch for an entire day.
A company called Lenmar has unveiled a new portable battery pack that has enough juice and connectivity to charge up to three of your favorite gadgets at the same time. The device is called the Helix and it has 11,000 mAh of power inside the small enclosure. The device also features three full-sized USB ports on the bottom.
That means you can plug-in three of your devices to charge at the same time. If you connect a single device, the manufacturer says that you can recharge an iPhone up to seven times. The device has enough power to completely recharge your iPad once. The battery pack is a total output current of 4.4 A.
One of the USB ports supports 2.4 A for tablets and the other two support one amp for smartphones and other devices. The battery pack has an LED indicator to show how much power remains in the battery and are charges via a micro USB cable. The battery pack isn't only for Apple gadgets, since it uses standard USB ports you can charge anything that uses a USB cable. The Helix is available right now for $99.99.
[via Lenmar]