Harmonix reveals Fuser, a music game that makes you a festival DJ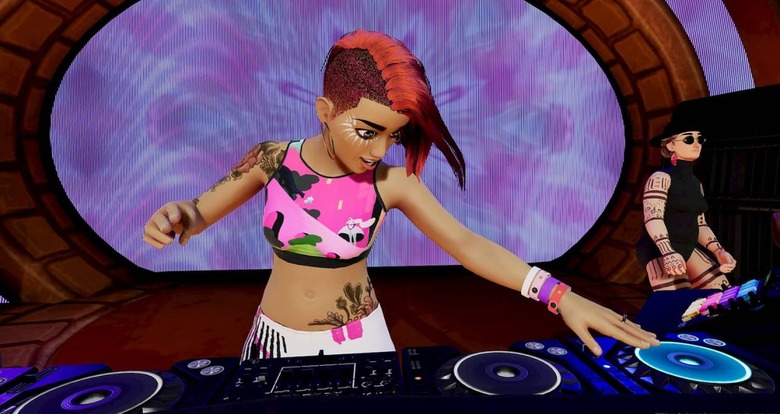 We're well past the time when games like Guitar Hero and Rock Band were at the height of their popularity, but all this time, Harmonix has been plugging away by releasing various titles centered around music in one way or another. Today, the Rock Band and Dance Central developer announced a new title called Fuser, which puts players in the shoes of a festival DJ.
That means instead of playing music on plastic instruments, you'll be mixing famous songs in front of a crowd. Harmonix says that there will be more than 100 tracks available in Fuser at launch, and given the post-release strategy of games like Rock Band, we'll probably see many more offered as DLC.
There is one key difference between the games in the Rock Band series and Fuser, in that the latter won't require any peripherals. In Rock Band, gamers played along with songs on plastic guitars and drums, but in Fuser, it sounds like you'll only need the controller came with your console. That could help broaden appeal, as those peripherals made Rock Band cost a fair bit more than competing video games.
In a press release today, Harmonix says that Fuser uses proprietary technology that allows players to "seamlessly blend vocals, bass lines, and other instrumentation from a multitude of different music genres and artists to define their own unique sound through seamless, innovative gameplay." So far, Harmonix has confirmed 16 songs for Fuser; check out the initial tracklist below:
• 50 Cent – "In Da Club"
• Billie Eilish – "bad guy"
• Blue Öyster Cult – "(Don't Fear) The Reaper"
• The Chainsmokers ft. Daya – "Don't Let Me Down"
• The Clash – "Rock the Casbah"
• Fatboy Slim – "The Rockafeller Skank"
• Imagine Dragons – "Thunder"
• J. Balvin & Willy William – "Mi Gente"
• Lady Gaga – "Born This Way"
• Lil Nas X ft. Billy Ray Cyrus – "Old Town Road (Remix)"
• Lizzo – "Good As Hell"
• LMFAO ft. Lauren Bennett & GoonRock – "Party Rock Anthem"
• Migos – "Stir Fry"
• Post Malone – "Better Now"
• Smash Mouth – "All Star"
• Warren G & Nate Dogg – "Regulate"
You can take a look at some brief glimpses of Fuser gameplay in the trailers embedded above. Fuser is due out sometime this fall on PS4, Xbox One, Switch, and PC, and we'll let you know when more details are announced.