Harmon Kardon Cinespecial 29 Stereo Reciever and DVD Player Combo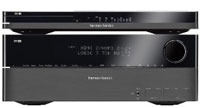 This combo combines Harmon Kardon's 7.1 AVR 350 receiver and the DVD 29 DVD Player. Both of which, might I say, look amazing.
The receiver is loaded with niceties starting with HDMI 1.2a inputs that can do up to 1080p. Then there is the Faroudja DCDi that handles the upscaling of analog inputs up to 720p through HDMI.
The DVD 29 doesn't fall short either with its extremely thin design. It also has a built in HDMI output upscaler for up to 720p or 1080i. The DVD 29 plays all of the current a/v formats including DVD-Audio, no word on what those current formats are or if they include Divx. Both products should be available in October for an unknown amount.
Harmon Kardon Cinespecial 29 Receiver and DVD Player Combo [via i4u]