Harman Unveils JBL On Air, New AirPlay Ready Speaker Dock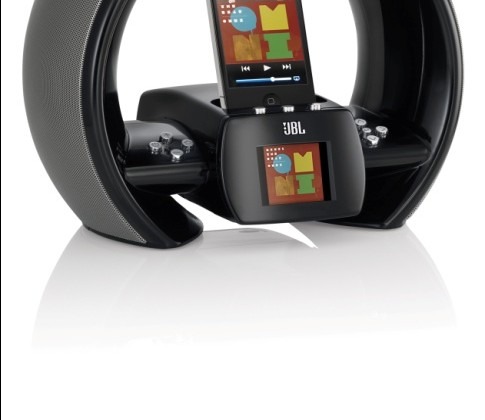 Harman just announced this morning a new Airplay-ready speaker dock called JBL On Air. This latest addition to their JBL lineup takes full advantage of integrated Apple AirPlay technology to let you wirelessly stream music from your iTunes library on a Mac or PC as well as from your iPhone, iPad, or iPod touch via your existing WiFi network to the JBL On Air.
The JBL On Air features a bright color screen for displaying album art as well as artist and song information. The On Air speaker dock also features three JBL transducers with a unique 360-degree HALO (horizontal acoustic level optimization) design that uniformly delivers a rich and full-spectrum sound across a wide listening area.
Other features include a clock with dual alarms, digital FM radio and USB port. And of course, a dock for your iPhone or iPod touch. The JBL On Air is compatible with iTunes 10.1 or later and iOS 4.2 or later. Priced at $349, it will be available later this month online and in retail stores of Best Buy and Apple. You can visit the JBL On Air product page for more information.