Harman Smartphone Dashboard Concept Showcased In Geneva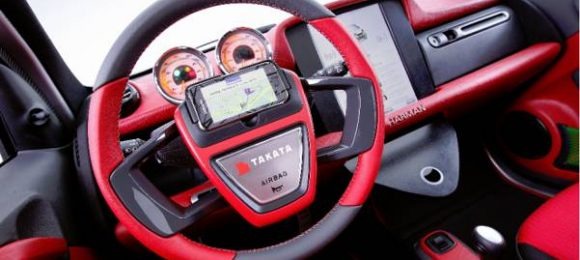 Things are in full swing at the Geneva Motor Show, and Harman have a little something they'd like to show you there. They've come up with a integrated and personalized dashboard system designed to sync with your existing smartphone, whether it be iOS, Android, or BlackBerry.
The system works via NFC: when you enter your vehicle with your smartphone, the interface remembers settings from when you were last in the car, such as seat adjustments, volume preferences, and social network feeds. Settings are personalized to each driver, so if you share a vehicle with a partner you won't find yourself having to readjust everything whenever you drive.
The system also integrates with the navigation system, tweaking routes and gas station preferences as it learns more about your driving habits. Safety also seems to be a key feature – rather than swiping and taping away at your phone, motion gesture controls are employed instead, and the system can suggest you pull over for a rest if needed.
Right now Harman are only showing off the technology in their DOCK+GO concept vehicle, although they say the technology is commercially viable for any automakers willing to try it. Time will tell if we see it in any cars in the near future.