Harman Debuts New Gaming Headset AKG GHS-1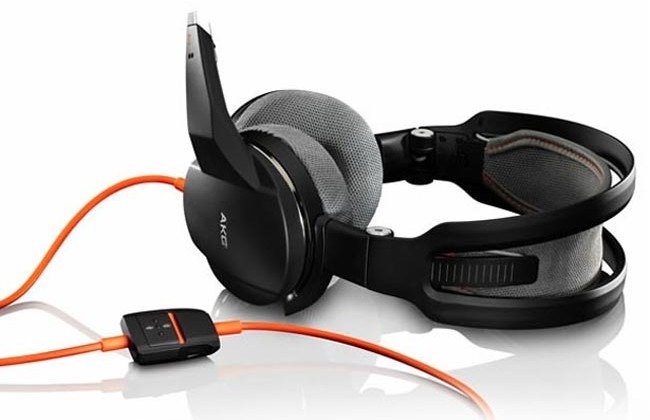 Harman has just unleashed a new portable gaming headset, the AKG GHS-1, for a truly immersive gaming experience. The headset promises high-output digital sound reproduction such that grenade explosions and rumbling jet engines will feel like they're happening in your very own room.
Winner of the Red Dot award for outstanding product design, the GHS-1, not only looks cool but fits comfortably for long hours of gaming. The headset is light weight and features passive noise reduction to seal out most ambient sound. It also features a cardioid or directional boom microphone that delivers your voice signal clearly without background noise.
The GHS-1 also features the patented AKG 3D-Axis2 folding mechanism that allows it to be folded away flat for easy portability. The headset comes in three designs and is available now at Harman for $79.95.
Press Release:
HARMAN Debuts AKG® GHS-1 Headset Offering Realistic, Dynamic Sound for Ultimate Gaming Experience

STAMFORD, Conn. – HARMAN International Industries, Incorporated (NYSE:HAR), today announced the launch of the new AKG® GHS-1 portable gaming headset. Grenade explosions and rumbling jet engines will seem as if they are in your very own room when you have the brand-new portable gaming headset on your ears. Winner of the coveted Red Dot award for outstanding product design, the new GHS-1 headset brings PC gaming to a whole new level of realism, excitement, portability and comfort.

"When you're in an all-immersive entertainment experience such as gaming, we understand how important high-quality, realistic sound plays in the overall experience," said David Slump, president, HARMAN Consumer Division. "The new GHS-1 headset is designed specifically for the gamer and features our innovative audio engineering built into a distinctive, long-lasting and intuitive design for the ideal gaming experience."

Lightweight and designed for long-wearing comfort, the headset features a boom microphone that filters out background noise. Passive noise reduction effectively seals out most ambient sounds, providing for an undisturbed overall listening and gaming experience. The headset also features a cardioid (directional) boom microphone that filters out background noises, delivering a clear voice signal for every user.

The in-line microphone is also intelligently designed so that the volume can be conveniently adjusted right on the cable, which reduces the need for players to interact with the game console or other source throughout the game.

Availability

The AKG GHS-1 portable headset is available now in three color combinations: black and orange; white and green; and camouflage and blue for $79.95. For more information, please visit: www.harmanaudio.com/AKG-GHS1.

Product Features

· Lightweight, comfortable – allows for hours of continuous uses and reduces ear fatigue

· Cardioid (directional) boom microphone brings clear voice signal and filters out most background noises

· In-line volume control and microphone and on/off switch brings convenience by reducing the need to interact with the game console or other source

· 3D-Axis2 folding headband features easy portability by folding to compact size

· Passive noise reduction offers undistracted listening by effectively sealing out most ambient sounds

About HARMAN

HARMAN (www.harman.com) designs, manufactures and markets a wide range of audio and infotainment solutions for the automotive, consumer and professional markets – supported by 15 leading brands, including AKG, Harman Kardon, Infinity, JBL, Lexicon and Mark Levinson. The company is admired by audiophiles across multiple generations and supports leading professional entertainers and the venues where they perform. More than 20 million automobiles on the road today are equipped with HARMAN audio and infotainment systems. HARMAN has a workforce of about 11,800 people across the Americas, Europe and Asia, and reported sales of $3.5 billion for the 12 months ended December 31, 2010. The company's shares are traded on the New York Stock Exchange under the symbol NYSE:HAR.